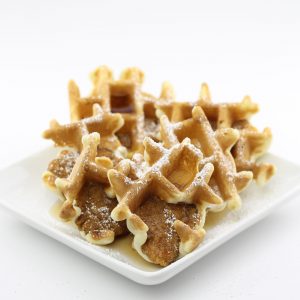 This is my "I drank way too much last night and now I want chicken and waffles for breakfast, but I don't want to put any effort into making them" version of chicken and waffles.
The recipe is quite simple really. Just throw some chicken nuggets into a waffle iron, spoon waffle batter on top of them, cook until golden brown and then hit those bad boys with some syrup and powdered sugar!
I figured that a recipe for these wasn't even necessary since they're so basic, but then again there are also people out there searching for avocado toast recipes where the ingredients and recipe are literally right in the name so what the hell, I'm including it anyway even though that in keeping with the simpleness — and by "simpleness" what I really mean is "laziness" — of this dish I just used the waffle mix from a box where all you have to do is add water.
If you're looking for an actual waffle mix recipe check out my Popcorn Chicken in Edible Waffle Bowls.
Usually when I make these I use microwave chicken nuggets from the grocery store, but if you're feeling especially lethargic like I was when I made the video below you can just order some Burger King chicken nuggets from Grubhub. You can't beat their 10 nuggets for $1.69 deal!
So, go out this Friday night, get wrecked, sleep in late the next morning and then wake up and make the laziest chicken and waffle recipe of all time! You're welcome!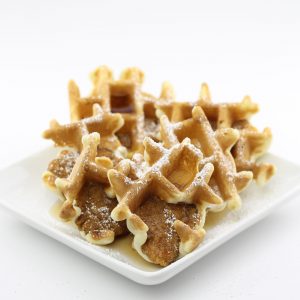 Chicken and Waffle Nuggets Recipe
Nick @ DudeFoods.com
This super easy chicken and waffle recipe cooks waffles right around your chicken nuggets in under 10 minutes!
Ingredients
10

chicken nuggets

1 1/2

cups

waffle batter

syrup

powdered sugar
Instructions
Heat up your waffle iron and add chicken nuggets.

Top each chicken nuggets with approximately 2 tablespoons of waffle batter.

Cook until golden brown.

Top with syrup and powdered sugar.