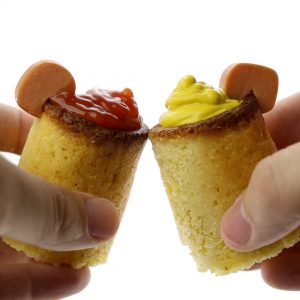 I promise that one day soon I'll stop making corn dog-related foods or foods that are breaded in Flamin' Hot Cheetos or now that I think about it, Flamin' Hot Cheetos Corn Dogs. Today just isn't that day though….
Pancake Shot Glasses, Spaghetti Noodle Shot Glasses and even Mini Bloody Marys in Edible Cheddar Cheese Shot Glasses are just a few of the ridiculous kitchen creations you can make when you own a silicone shot glass mold. My newest concoction? Corn Dog Shot Glasses!
To make them I just whipped up some corn dog batter, poured it into my shot glass mold and baked them for 20 minutes at 400°. I actually tried to bake the hot dogs right into the shot glasses similar to what I did when I made Macaroni and Cheese in Edible Corn Dog Bowls, but since the walls of the shot glasses were fairly thin it didn't work and my first batch just totally fell apart. To make up for it I just stuck half a hot dog in the middle of each shot glass prior to filling them with ketchup and mustard.
The only bummer about these is that since they weren't deep fried they didn't get that perfect golden brown that you see with regular corn dogs, but the taste was definitely still there! Now that I think about it though, since corn dog batter and corn bread batter is basically the same exact thing and the only thing that really differentiates them is that corn dogs are deep fried and corn bread is baked I guess these were technically corn bread shot glasses, which I've already done in the past.
If I ever made these again I'd probably bake them in the oven and then drop them in the deep fryer for a minute or so afterwards just to add a little corn dog crispiness to them. Or I guess I could just go back to making regular corn dogs, which are already just as portable as these are….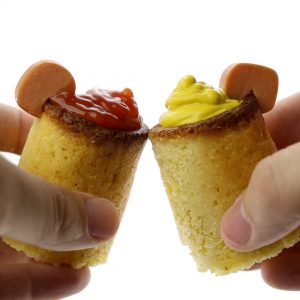 Corn Dog Shot Glasses Recipe
Nick @ DudeFoods.com
Your favorite fair food just got turned into an appetizer with these Corn Dog Shot Glasses!
Ingredients
5

hot dogs

1

cup

cornmeal

1

cup

flour

¼

cup

sugar

¼

teaspoon

salt

⅛

teaspoon

pepper

4

teaspoons

baking powder

1

egg

1

cup

milk

Ketchup, mustard or your preferred corn dog accompaniment
Instructions
Preheat oven to 400°.

In a bowl, combine cornmeal, flour, sugar, salt, pepper and baking powder. Stir in eggs and milk.

Pour corn dog mixture into shot glass mold.

Bake for 20 minutes or until a toothpick inserted into the corn dog shot glasses comes out clean.

Remove shot glass mold from the oven, let cool for a few minutes and with a sharp knife slice off any corn dog remnants that baked over the top of the mold so your shot glasses end up with a flat bottom.

Chop 4 of your hot dogs in half and stick half a hot dog into each shot glass and then finish filling with ketchup, mustard or your preferred corn dog accompaniment.

Slice the 5th hot dog into 8 equal slices and use those to garnish the rims of the shot glasses.