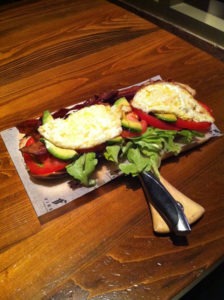 The restaurant that I was by far the most excited to eat at in Las Vegas was First Food & Bar, and the reason for that was because of their "Size Matters" menu, which is a special late night menu featuring abnormally large selections such as a two pound chicken parmagiana lasagna and a giant chicken fried steak that comes with four eggs and mashed potatoes. The one item I really wanted to try though was the "Big Dobranski Burger," a 21 ounce burger with six pieces of cheese, six pieces of bacon and half an avocado. When I didn't notice any of the aforementioned items on the menu I questioned our waiter about them and was told that the Size Matters menu had been discontinued. It was a crushing blow…
After perusing the menu a little more I decided to order the sole survivor from the Size Matters menu; the "Two-Handed BLTA," a giant BLT sandwich (the extra "A" is for avocado) with chipotle mayonnaise. First also gives you the option of paying an extra $2 to add two eggs to your sandwich, which I gladly obliged with. Here's a little tip, eggs on anything always make it better, so anytime you have the option to add eggs to your food you should always go for it.
The BLTA was great, but since I went in expecting to be able to order the Big Dobranski Burger I was still kind of disappointed, especially since First still has that and the other Size Matters items listed on the menu on their website as being available. It's kind of like when you head to the movie theater only to find out that your first choice is sold out, so then you end up settling on another movie where although it's good, it just isn't the original one that you had your mind set on seeing.