It's a damn shame that Elvis Presley died at such a young age because he seemed like a pretty cool dude. Case in point, the Elvis sandwich which consists of peanut butter, bacon and banana that was named after him since he ate them so often.
It's a pretty great sandwich on it's own, but I made it even better by replacing the slices of bread with perfectly crispy bacon weaves!
There's a bit of a debate as to whether or not these specific sandwiches that Elvis ate included bacon or if they consisted solely of peanut butter and banana with no bacon.
I think where the confusion comes from is that Elvis also loved a sandwich called the Fool's Gold Loaf that was created by a now shuttered restaurant in Denver called Colorado Mine Company. That made their sandwich by hollowing out a loaf of French bread and stuffing it with a pound of bacon, a jar of creamy peanut butter and a jar of grape jelly.
Now, I've had fried peanut butter and banana sandwiches and I've had bacon, peanut butter and jelly sandwiches and I've gotta say, combining the best of both worlds and doing a fried peanut butter, bacon and banana sandwich is definitely the way to go!
Let's be honest though, the bacon, peanut butter and banana is what makes that sandwich great right? So why not just use only those ingredients and ditch the pesky bread which was only getting in the way to begin with?
So, I took 24 slices of bacon — 12 for each bacon weave — wove them together and baked them in my oven until they were nice and crispy. I then trimmed them into squares and added the peanut butter, some banana slices and the bacon that was left over from when I trimmed the weaves into squares because there's zero chance I'm ever going to waste any bacon….
I'm sure I'll get some comments about how using two bacon weaves as slices of bread isn't healthy but come on, how healthy is a peanut butter, bacon and banana sandwich even when it's on regular bread? Just make sure you don't eat too many of them and end up dead on the toilet like Elvis did and you'll be fine!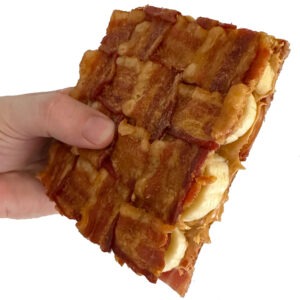 Bacon Weave Elvis Sandwich Recipe
Nick @ DudeFoods.com
Two crispy bacon weaves combine with peanut butter and sliced bananas for this tribute to Elvis!
Ingredients
24

Slices

bacon

1

cup

peanut butter

1

banana
Instructions
Line 8 slices of bacon vertically side by side.

Fold back every other bacon strip and lay a slice of bacon perpendicular to the original 6 strips. Repeat this step until your entire bacon weave is done, alternating which strips go over and which strips go under the original 6 bacon strips. If this sounds confusing at all just watch the video.

Repeat this process again for your second bacon weave.

Bake the bacon weaves in your oven for 20 minutes at 400° or until your bacon is crispy.

Remove the bacon weaves from the oven, pat them down with paper towels to remove excess grease and trim them into perfect squares.

Spread peanut butter evenly onto your two bacon weaves, add sliced banana to one bacon weave and sprinkle the remaining bacon that was left over from when you trimmed your bacon weaves into squares onto the second bacon weave.

Combine the two bacon weaves together to create a sandwich and enjoy!