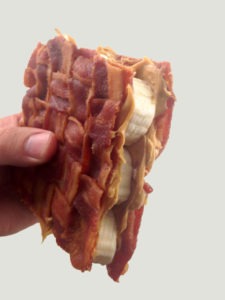 The Elvis is perhaps one of the greatest sandwiches ever created. How can you not love the combination of peanut butter, bacon and banana? In the past I've even toyed with various iterations of the Elvis by creating Elvis Cookies and the Spicy Elvis.
This time, I decided to stick much closer to the original sandwich, with one minor difference. Instead of including the bacon along with the bananas and peanut butter between the two slices of bread I ditched the bread completely and replaced it with two bacon weaves.
Let's be honest, the bacon, peanut butter and banana is what makes this sandwich great right? So why not just use ONLY those ingredients and ditch the pesky bread which was only getting in the way to begin with.
Seriously, is there a single food out there that can't be improved by adding a bacon weave? Between this, the Bacon Weave Double Cheeseburger, the Bacon Weave Taco, the Bacon Weave Quesadilla, the Bacon Weave Grilled Cheese Sandwich and the numerous other bacon weave creations I've come up with I'm starting to believe that the answer is no.