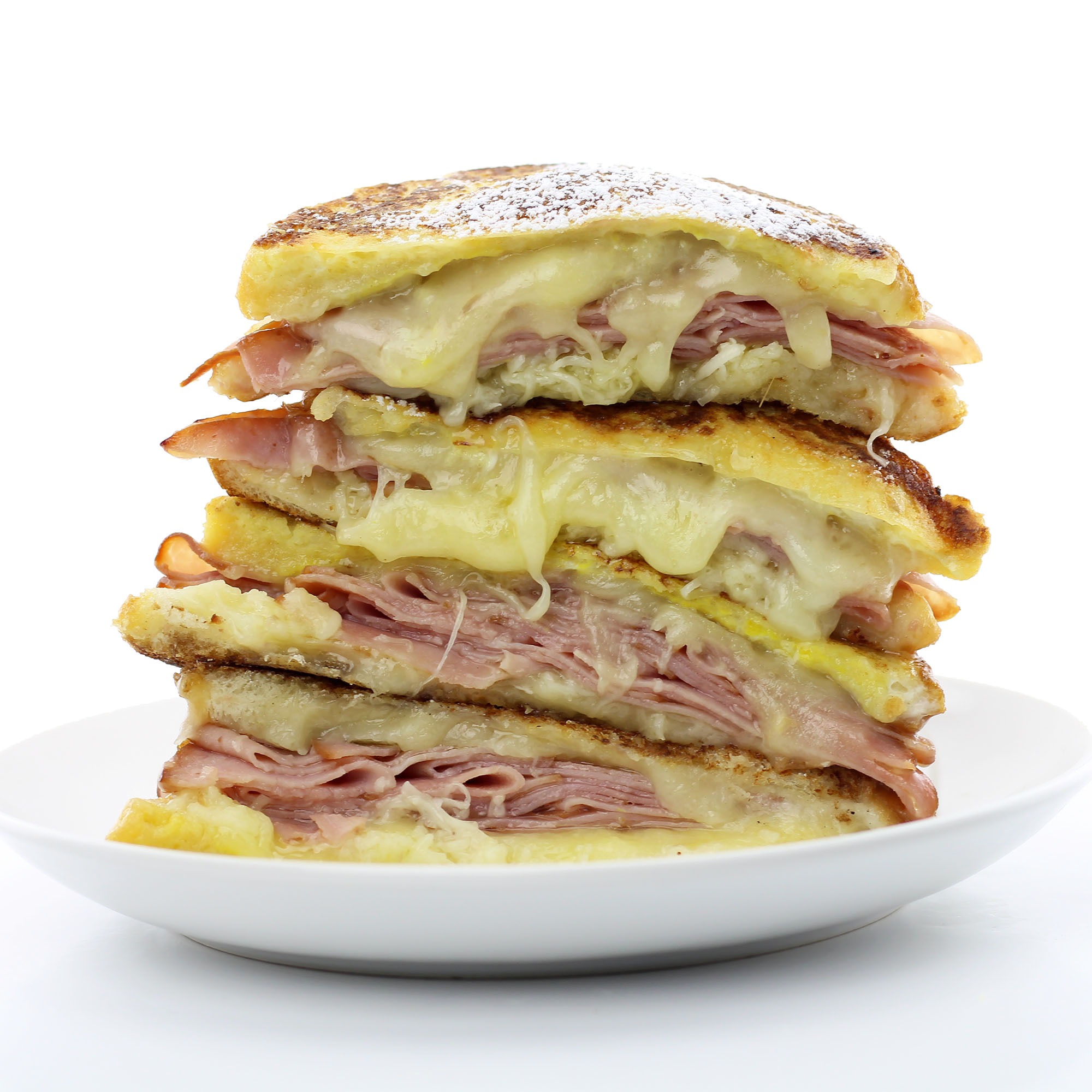 This post is part of a series I'm working on for Black Creek Cheese. We formed a partnership out of a love for big flavor and bold cheeses.
This is the fifth in a series of recipes I'm working on for Black Creek Cheese. In case you've missed any of my previous posts you can click here to check out all the cheesy dishes I've come up with so far.
I'm not sure how many of you are fans of the Monte Cristo, but for years now I've considered it my favorite breakfast sandwich. It consists of ham and cheese between two slices of bread — one with mayonnaise spread on it and one with mustard spread on it. The entire sandwich is then dipped in egg, fried, topped with powdered sugar and served with jam or maple syrup for dipping. It's basically a ham and cheese sandwich between two slices of French toast.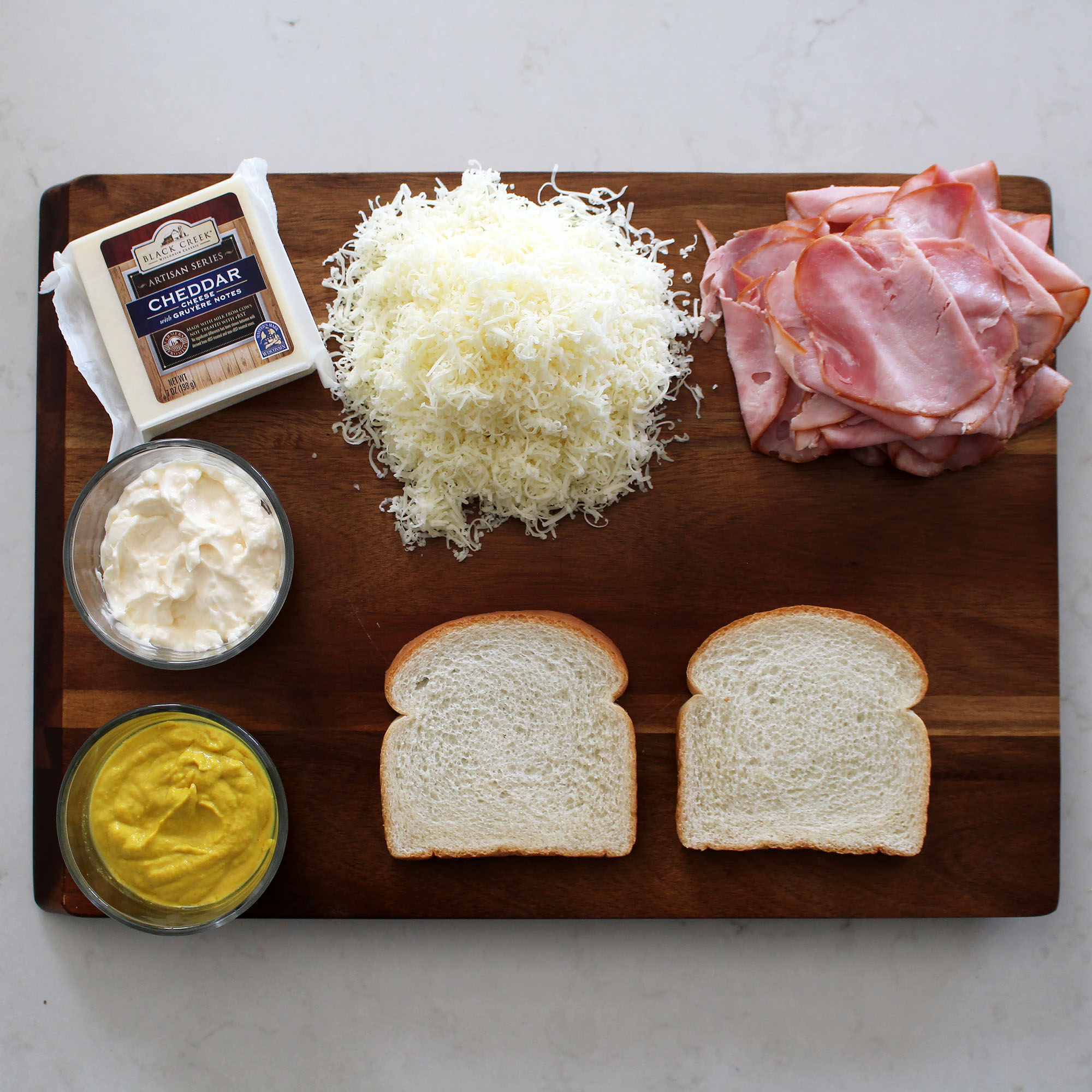 If you've never had the pleasure of trying one, I know that all those things combined might sound a little weird to you but trust me, it works. If you want to skip the mustard or pass on dipping it in strawberry jam, you definitely can, but I'd highly recommend trying it as is at least once because it's absolutely delicious.
So what makes this a Midwest Monte Cristo? Well, rather than Gruyère — or Swiss cheese in some cases — I used Black Creek Cheese Cheddar Cheese With Gruyère Notes. Oh, and I also used a lot of it because in case you haven't noticed, here in the Midwest — especially in Wisconsin which is where I live and where Black Creek Cheese is crafted — we love our cheese.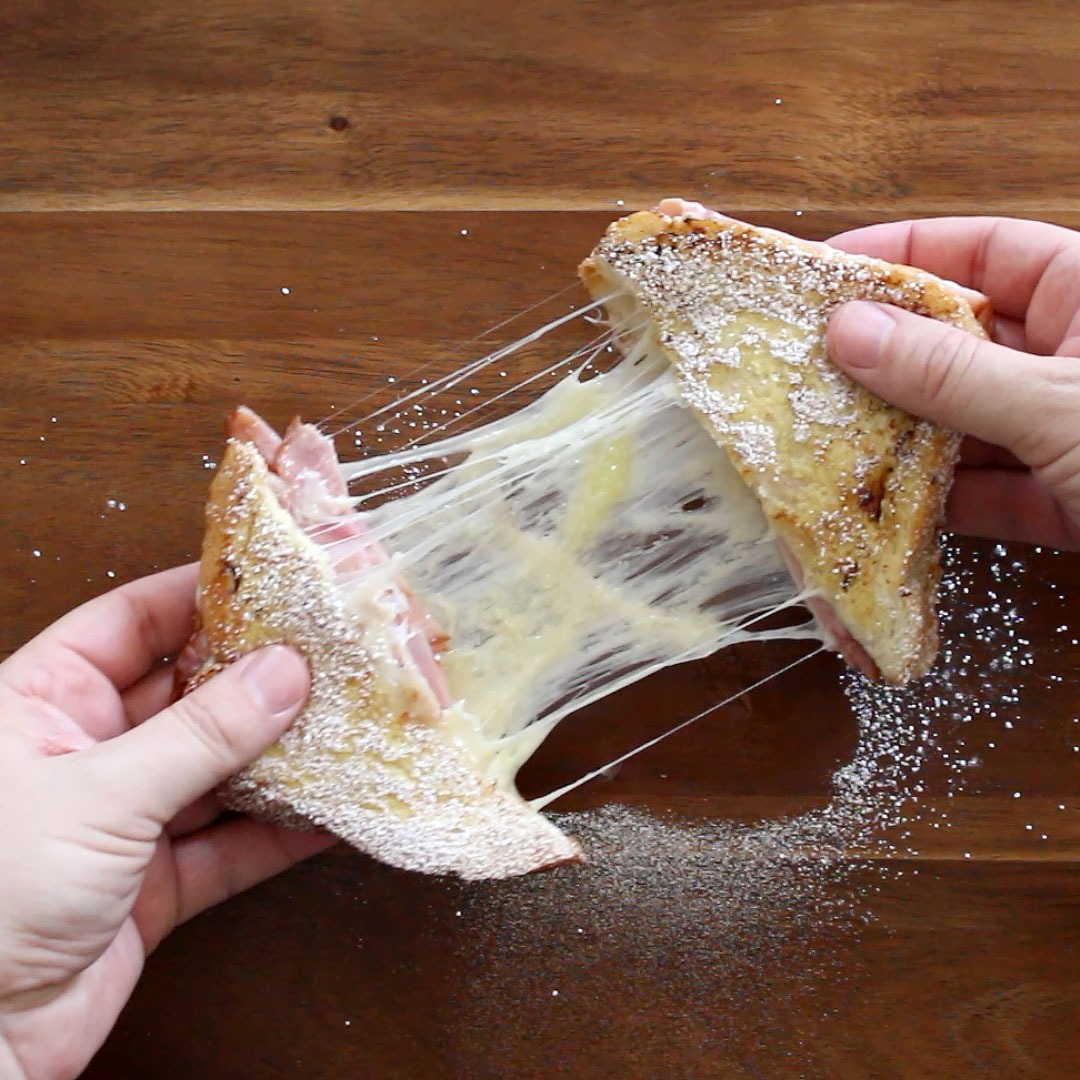 I shredded the cheese for my sandwiches, but you'd be fine just slicing it, as well. I will tell you though that shredded cheese melts more evenly and quickly than sliced cheese, so if you want your sandwiches to have that perfectly melted look, I'd take the extra couple minutes and just shred it.
I know a lot of people who aren't fans of Gruyère say it's because its sweet flavor varies so much with age, so if you fall into that category, just know Black Creek Cheddar Cheese with Gruyère Notes has a much more approachable, consistent flavor that you'll love. It combines the rich, creaminess of Cheddar with the nutty, earthy aspects of Gruyère to produce a cheese that's absolutely perfect for melting.
It's a bit of a catch-22 because Black Creek Cheddar Cheese With Gruyère Notes is so flavorful that you don't need to add a ton of it to your sandwich, but at the same time it's so good that you can't get enough of it. That being said, I used almost half a pound of cheese between the two Midwest Monte Cristo sandwiches I made and don't regret a thing!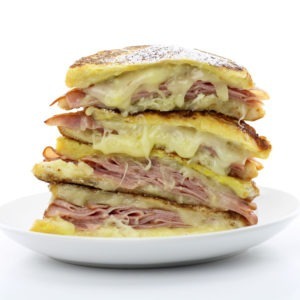 The Midwest Monte Cristo Recipe
Nick @ DudeFoods.com
This take on a traditional Monte Cristo sandwich swaps out Gruyère for Black Creek Cheese's Cheddar With Gruyère Notes.
Ingredients
7

ounces

Black Creek Cheddar Cheese With Gruyère Notes

4

slices

white bread

2

tablespoons

mayonnaise

2

tablespoons

yellow mustard

1/2

pound

ham

2

eggs

1/4

cup

milk

1/4

teaspoon

kosher salt

1/4

teaspoon

freshly ground black pepper

2

tablespoons

butter

2

tablespoons

powdered sugar

strawberry jam or maple syrup

for dipping
Instructions
Take two slices of bread and spread mayonnaise on one slice and yellow mustard on the other and assemble your sandwiches using half your shredded cheese and half your ham.

Repeat a second time for your second sandwich.

In a bowl whisk together eggs, milk, salt and pepper and dip sandwiches in the mixture.

Heat a skillet over medium heat, add the butter and let it melt.

Cook sandwiches for 5 minutes per side or until golden brown and cheese is melted.

Dust with powdered sugar and serve with strawberry jam for dipping.