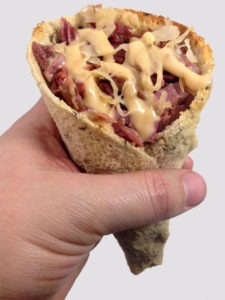 With St. Patrick's Day coming up next week I've had Reuben sandwiches on my mind for quite a while now. In my opinion there aren't many sandwiches out there that can top the Reuben. I mean come on, how can you beat corned beef, Swiss cheese, sauerkraut and dressing served between two slices of rye bread? Well, I'll tell you how you can beat it… by turning it into a cone!
Why a cone you ask? Because out of the fifty or sixty times I've eaten a Reuben sandwich in my life there hasn't been one single instance where I've been able to finish one without corned beef and sauerkraut falling out of the sandwich and onto my plate.
Who knows, maybe I'm just a messy eater, but I feel like if a Reuben is made the right way, which to me means packing as much corned beef into it as humanly possible, there should be no possible way that you can eat it without making some kind of mess. That still doesn't mean that there isn't a better way though….
To create my Reuben Sandwich Cone I started off by taking four slices of rye bread, cutting off the crust, placing them into a square shape with their edges overlapping and then rolling them out as flat as possible with a rolling pin. What this did was create a large rye bread square, which I then placed an upside down bowl over, before tracing around it with a knife to create a perfectly circular slice of rye bread.
Next, I took the rye bread circle, rolled it around the cone that came along with a waffle cone maker I got a while back, wrapped aluminum foil around it and baked it in my oven for ten minutes at 400°. After that I let it cool for a few minutes, removed the aluminum foil and filled my newly created rye bread cone with corned beef, melted Swiss cheese, sauerkraut and Thousand Island dressing.
For as much as I love traditional Reuben sandwiches I think I loved my Reuben Sandwich Cone even more. Not only was it amazingly delicious, but I think the best part of all was that I was able to enjoy it without all the mess that a regular Reuben brings. It would be absolutely perfect for St. Patrick's Day when you're standing in a crowded bar trying to hold a beer in one hand and a Reuben in the other!