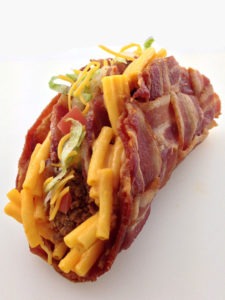 Even though I wrote about it almost a year ago, my Bacon Weave Taco post is still one of the most popular stories here on DudeFoods. I've done a couple different variations of it since then, including a Bacon Weave Choco Taco, but none of them have been quite as ridiculous as this most recent one.
I was recently asked to be on a local show here in Milwaukee called Studio A, and during filming they wanted to stop at my house to check out the whole food making process. They asked if I could create a new dish to show to their audience and mentioned that they like my original Bacon Weave Taco post and thus the Double Decker Mac & Cheese Stuffed Bacon Weave Taco was born!
I mean really, what's better than one bacon weave taco shell? TWO bacon weave taco shells with macaroni and cheese between them and a taco in the middle! In a way it's sort of like an awesome version of Taco Bell's Cheesy Gordita Crunch.
Now, I'm never one to shy away from making foods that are as crazy as possible, but with this one I thought that I might be overdoing things a bit. One Bacon Weave Taco is absolutely delicious, but would two of them — stuffed with mac and cheese — be overkill? As soon as I took a bite my doubts were instantly erased. It was amazing.
So where do I take the Bacon Weave Taco from here? I honestly have no idea. At this point I think that it will be pretty much impossible to top the Double Decker Mac & Cheese Stuffed Bacon Weave Taco, but who knows. Now if you'll excuse me, I'm off to get my cholesterol checked….