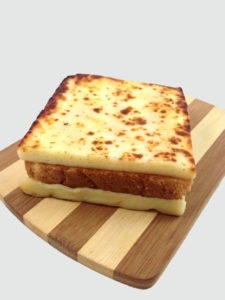 Earlier this year I created a grilled cheese sandwich that was made completely out of cheese. Then, I made a few more of them, added a couple burger patties and some bacon and came up with the Bread Cheese Bacon Double Cheeseburger.
This time I've once again used Carr Valley's Bread Cheese as the centerpiece to a sandwich, and like the original it's also a grilled cheese. This one however is much closer to a traditional grilled cheese, with one small exception… it's inside out.
Yep, what you see here is a sandwich that consists of two slices of fried cheese that take the place of bread, with one slice of bread between them where the cheese would normally be.
Now, with a sandwich like this the bread obviously isn't going to toast if you just stick it between two squares of cheese, so I buttered it and toasted it in a pan before adding it to the sandwich. After that all I did was fry my Inside Out Grilled Cheese Sandwich for about 45 seconds on each side until the cheese glistened.
So how did it taste? Pretty good! I know that a giant square of cheese might not look appealing, but what you need to realize is that this type of cheese is that it's meant to be served mostly on its own like this. Not necessarily in giant pieces like I did, but it's definitely a lot different — and a ton tastier — than just grabbing some brick of cheap cheese from the grocery store and taking a bite out of it.
If that still doesn't make you want to try an Inside Out Grilled Cheese Sandwich you could always use the same cheese to make some Bread Cheese Waffles.