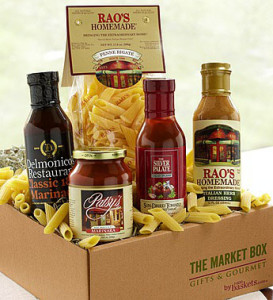 What's a Market Box you ask? It's a brown gift box filled with "premium products inspired by today's culinary trends."
Right now 1-800-BASKETS.COM offers six different Market Boxes ranging from their New York Ristorante box — which they recently sent me and you can see pictured to the left of this text — to their Margarita Market Box which is packed with mixers, straws and a whole slew of snacks.
Now, I know that you guys probably couldn't care less about the fact that I got a box of pasta, marinara sauce, salad dressing and steak sauce in the mail, but 1-800-BASKETS.COM is also giving away a free Market Box to one lucky DudeFoods reader!
Want to win? Just head over to the Market Box website and send an email to [email protected] letting me know which Market Box you'd most like to win.I'll pick a random winner at 5pm on Monday, September 2nd. Good luck!
Update: 9/2/2013 – Congratulations to Wenyi who won a Napa Valley Bistro Market Box!