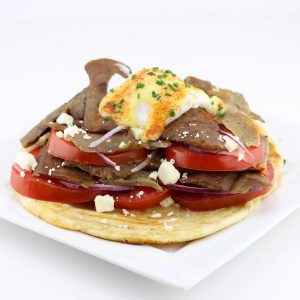 This delicious Gyro Eggs Benedict — or at least the poached egg portion of it — was made possible by Gourmia, who recently hooked me up with one of their GSV900 Sous Vide Self Contained Circulating Water Ovens to check out.
If you're unfamiliar with sous vide cooking it basically involves vacuum-sealing food into a bag and cooking it at a very precise temperature in a water bath. It's nothing new, but until a few years ago when companies started making cheaper sous vide cookers you'd really only find them in fancy restaurants.
Now it isn't like poached eggs are overly complicated to begin with, but what's great about making them sous vide is that you can pretty much make as many as you want all at once — and on top of that you can just leave them in the shell until they're done cooking.
I know that $129.99 is a lot to spend on a sous vide cooker just to guarantee that you have perfectly poached eggs, but trust me, you'll use this thing a ton for all sorts of stuff!
For example, I love using it for brats or any other types of encased meats since you can cook them at low temperatures and ensure that they're cooked perfectly without having to worry about the sausages losing any of their juices because the casings broke open from the heat. And don't even get me started on how easy it makes it to cook the perfect steak….
If you'd like to give sous vide cooking a try for a little less money though Gourmia also offers their GSV140 Immersion Sous Vide Pod for $99.99, which can clip onto any pot or container up to 10 gallons in size to do the same thing.
For poached eggs I like to cook mine at 167° for 13 minutes, but if you prefer a different type of doneness when it comes to your eggs ChefSteps has a pretty cool egg calculator where you can pick what texture you want for your whites and yolks and they'll tell you at what temperature and for how long to sous vide them for. They even have an Eggs Benedict recipe where you can poach the eggs and cook the hollandaise sauce together at once.
Anyway… back to the Gyro Benedict! Do you know what's great about using a pita instead of an English muffin for the bottom of Eggs Benedict? Since it covers almost the entire plate it catches any excess egg yolk and hollandaise sauce that drips down. Plus, when you get tired of eating it with a fork — especially if you pack yours with as much gyro meat and toppings like I did — you can just wrap up everything that's left and eat it like a gyro!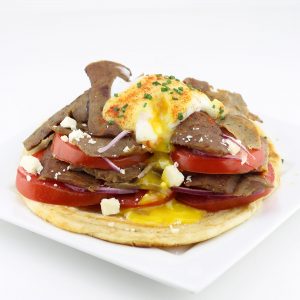 Gyro Benedict Recipe
Nick @ DudeFoods.com
Tired of traditional Eggs Benedict? Then try this Gyro Eggs Benedict recipe instead!
Ingredients
5

eggs

3

egg yolks

8

tablespoons

butter

melted

1

tablespoon

milk

1

tablespoon

lemon juice

5

pitas

1

tomato

1

onion

1

pound

gyro meat

Feta cheese
Instructions
Set your Gourmia sous vide cooker to 167° and when it comes to temperature carefully place 5 eggs into the water bath.

Cook for 13 minutes and transfer to a bowl of ice water.

For the hollandaise whisk 3 egg yolks and combine with milk and lemon juice in a pan over medium heat slowly adding 8 tablespoons of melted butter. Whisk until thickened.

Crack each egg shell over a slotted spoon, which will drain off any loose egg white leaving you with perfectly poached eggs.

Top each pita with sliced tomatoes, onions, feta cheese, gyro meat, a poached egg and hollandaise sauce.