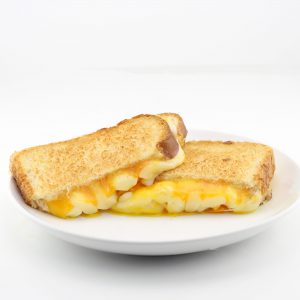 Seven years ago I was all set to make a standard grilled cheese sandwich — two slices of buttered bread with a couple slices of cheese between them — when I decided to add some cheese curds to the sandwich as well.
The Grilled Cheese Curd Sandwich was born that day, and I've been making them the same way ever since!
What's great about adding cheese curds to your grilled cheese sandwich is that as the slices of cheese melt they start filling in all the gaps between the cheese curds creating the perfect blend of cheese.
Plus, since the cheese curds have a totally different texture as the cheese slices and since they melt a bit differently you get a nice contrast of taste and texture. Plus, being from Wisconsin I'm pretty much just always trying to stuff as much cheese as possible into every single sandwich that I eat.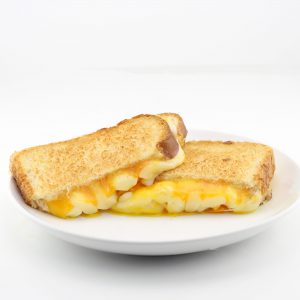 The Grilled Cheese Curd Sandwich Recipe
Nick @ DudeFoods.com
This Grilled Cheese Curd Sandwich is guaranteed to be the cheesiest grilled cheese sandwich you've ever had!
Ingredients
2

slices

of bread

2

slices

Cheddar cheese

5

ounces

cheese curds

butter
Instructions
Heat a pan over medium heat.

Butter one slice of bread and place butter side down onto the pan.

Top with one slice of cheese, a layer of cheese curds, a second slice of cheese and finally a second slice of buttered bread, buttered-side-up.

Grill for 3 minutes or until browned and flip sandwich.

Grill for another 3 minutes or until bread is browned.

Slice in half and enjoy!