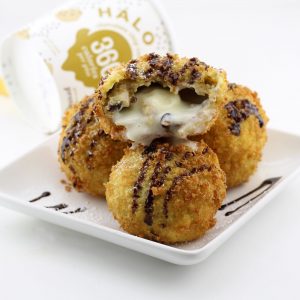 Halo Top recently hooked me up with a bunch of free ice cream to try. Being from Wisconsin, I'll always be a custard guy, but I've gotta admit, for a low calorie ice cream it's actually pretty good.
I've tried a couple similar ice cream brands in the past and they were not good. They all pretty much just reminded me of the frost you get on the inside of your freezer — just completely tasteless.
The thing is though, you guys don't come here to read about "healthy" ice cream, so I decided to take a pint of Halo Top's chocolate chip cookie dough ice cream, wrap it in even more chocolate chip cookie dough, bread it and deep fry it.
I have no idea how many calories that added to the 360 that the pint of Halo Top originally contained, but however many it was it was definitely worth it!
The great part about wrapping even more cookie dough around the ice cream balls prior to breading them is that not even a single drop of melted ice cream was lost during the 30 second deep frying process.
I then topped the deep fried ice cream balls with chocolate sauce and powdered sugar because hey, if I'm already making their ice cream super unhealthy, then why not go all out right?
So Halo Top, thanks for all the free ice cream, and if you ever want to send me any more I'm always down to put the deep fryer to good use!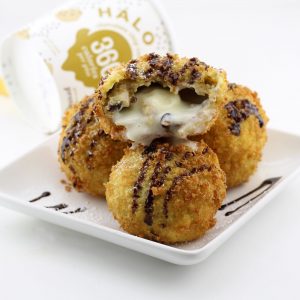 Deep Fried Cookie Dough Wrapped Chocolate Chip Cookie Dough Ice Cream Recipe
Nick @ DudeFoods.com
Is Halo Top too low calorie for you? Luckily there's a simple solution that involves wrapping it in chocolate chip cookie dough and deep frying it! Just follow this recipe!
Ingredients
2

quarts

oil

for frying

1

pint

Chocolate Chip Cookie Dough Halo Top Ice Cream

1

pound

pre-made chocolate chip cookie dough

1

cup

flour

6

eggs

1

cup

milk

6

cups

panko breadcrumbs

chocolate sauce, powdered sugar or your choice of toppings
Instructions
Heat oil in deep fryer or heavy skillet to 375°F.

Scoop Halo Top ice cream onto parchment paper and place in freezer until ready to use.

Separate chocolate chip cookie dough into 8 (or however many scoops of ice cream you have) equal sized portions and flatten between parchment paper.

One by one, place the flattened cookie dough sheets in the palm of your hand, place a scoop of ice cream on top of each one and form the cookie dough around the ice cream.

Set up a dredging station with three bowls — flour in the first one, beaten eggs and milk in the second one and panko breadcrumbs in the third one.

Coat each cookie dough wrapped ice cream ball in flour, submerge in egg wash and cover in breadcrumbs. Repeat this step again.

Fry ice cream balls for 30 seconds.

Top with chocolate sauce, powdered sugar or your choice of toppings and serve immediately.