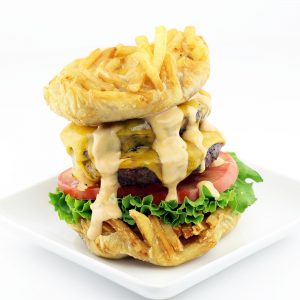 Often times when I'm eating a burger with a side of fries I do this thing where I try to include a fry or two into each burger bite.
I usually do this one of two ways. The first is by grabbing some fries and holding them on top of my burger as I pick it up and bite it. Unfortunately, this has caused me to bite my own fingers on more than one occasion. I'm assuming that this solution would work for most people and that the biting my own fingers thing is mostly unique to me because I eat so damn fast, but either way, not ideal.
The second way is to just add some fries as a burger topping underneath the top bun. The problem with that though — aside from the fries falling back onto the plate when you take a bite — is that if the burger is juicy then the fires get a little too soggy for my liking. I prefer that my fries stay nice and crispy at all times.
I recently came up with a third solution though that works like a goddamn charm! French fry buns! To create them I just took hamburger buns, poured beer batter over them, stuck French fries into the batter, frozen them and deep fried them. The result is buns that still stay fairly soft, yet they're completely surrounded by crispy fries.
The double cheeseburger version was a little tough to eat with how tall it was, so perhaps a single patty or maybe even one French fry bun instead of two would have worked out better but either way, this idea is definitely a winner!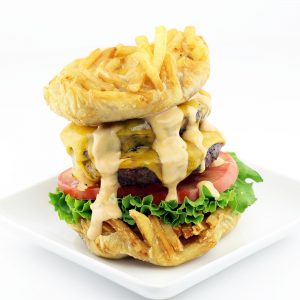 The French Fry Bun Double Cheeseburger Recipe
Nick @ DudeFoods.com
Do you know what's really boring? Regular burger buns. Do you know what isn't boring? French fry burger buns!
Ingredients
2

cups

flour

2

cups

light beer

4

hamburger buns

1

package (approximately 20 ounces)

frozen French fries

2

quarts

oil

for frying

2

pounds

ground beef

Lettuce

Tomato
Instructions
Cook frozen French fries according to the directions on the package.

In a bowl combine flour and beer until smooth.

Take the buns one by one — top and bottom separately — place them over plastic wrap in a bowl and pour beer batter lightly over them until completely coated.

Pack French fries tightly around the buns before wrapping them up in plastic wrap and aluminum foil.

Freeze buns for an hour or until beer batter is completely frozen.

Heat oil in deep fryer or heavy skillet to 375°F.

Fry buns in batches for 3 minutes and drain on paper towels.

Form ground beef into 8 equal sized patties, season with salt and pepper and grill until they reach your desired level of doneness.

Assemble your burgers by taking one French fry bun and topping it with lettuce, sliced tomato, two burger patties and finally a second French fry bun.