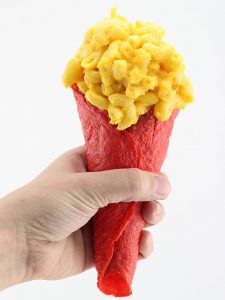 Everyone is always "Doritos taco shell this…" and "Doritos taco shell that…', but do you know what's better than Doritos? Flamin' Hot cheetos!
And do you know what's better than a shell? A cone! (Mainly because you can actually finish your entire meal without it breaking and having all your food falling onto your plate, which inevitably seems to happen to me every single time I eat a hard shell taco).
Plus, it seems like every other food blogger out there that I follow has been making tons of stuff with Flamin' Hot Cheetos, so I figured that I should probably hop on that train as well. Why the hell not right? Gotta keep up with those food trends!
My original plan was actually to fill the Flamin' Hot Cheetos cone with taco ingredients until I realized that it had been about three days since I'd eaten macaroni and cheese, and seeing as how I usually don't go longer than 48 hours between mac 'n cheese binges I opted to pack it with that instead.
On the plus side, now I can still make a version filled with ground beef, cheese, lettuce, tomato and sour cream and boom! Suddenly I've got a completely new blog post without me actually having to go through the trouble of coming up with an original idea!
As far as making the cone goes I used a waffle cone maker that I own and a metal cone that I got from a restaurant supply store, which are two things I'm guessing that most people don't just have sitting around their kitchens, but I'm sure that a hot pan and a cone made out of poster board and wrapped in aluminum foil would work just as good.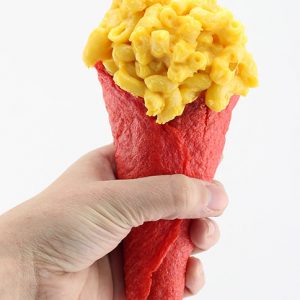 Flamin' Hot Cheetos Cone Recipe
Nick @ DudeFoods.com
Doritos taco shells are totally played out and cones are better than shells anyway so here's a recipe for Flamin' Hot Cheetos cones!
Ingredients
1 1/2

cups

Flamin' Hot Cheetos

crushed

3

eggs

1/3

cup

water

2

tablespoons

vegetable oil

your filling of choice
Instructions
Combine all ingredients and mix until smooth.

Heat up a waffle cone maker, add 3 tablespoons of mixture to the center and close the lid tightly. If you don't have a waffle cone maker using a pan over medium heat on your stove should work as well.

Bake for 60 seconds or until the mixture stays together yet is still flexible enough to be formed into a cone.

Using a spatula, transfer the unformed cone to a piece of wax paper and form around a cone shaped object. I used a metal cone that I got from a restaurant supply store, but if you don't have one of those you should be able to form a cone out of poster board and wrap aluminum foil around it to get the same affect.

Transfer the cone to a baking sheet and bake in your oven at 400° for 15 minutes.

Let cool and fill with your choice of ingredients.