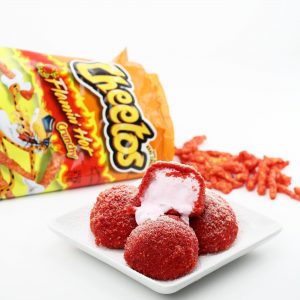 Last month I was scrolling through Darren Rovell's Instagram feed and came across a photo of some Cheetos-flavored ice cream that Big Gay Ice Cream was selling.
I dug the idea, but all they were doing was taking ice cream and sprinkling crushed up Cheetos on top of it. To me it seemed like a better way to do it would be to bread the ice cream in Cheetos and deep fry it.
Plus, Flamin' Hot Cheetos are infinitely better than regular Cheetos so it obviously made sense for me to use those instead.
I remember eating fried ice cream all the time as a kid at Chi-Chi's and just being baffled as to how they were able to deep fry it without all the ice cream just completely melting.
It turns out that the trick is to just get a nice thick coating on the ice cream balls so the ice cream doesn't even have a chance to leak out in the deep fryer.
You can even wrap the ice cream scoops in cookie dough prior to breading them for an added layer of protection.
For some reason every single Chi-Chi's copycat recipe out there also says to fry the ice cream for only two seconds, but I've found that 10 – 15 seconds works much better and gets the ice cream to the point where it's just about to melt yet can still be eaten normally with a spoon, or even the way I normally do it which involves just picking them up and biting into them like apples.
Was my Flamin' Hot Cheetos Breaded Deep Fried Ice Cream better than the stuff that Big Gay Ice Cream was selling? I can't answer with 100% certainty since they don't have a location anywhere near where I live and I never got a chance to try it, but I can imagine what crushed up Cheetos sprinkled over ice cream tastes like and I'm going to go out on a limb and say that yeah, the deep fried version with Flamin' Hot Cheetos is definitely better….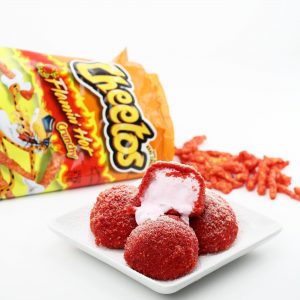 Deep Fried Flamin' Hot Cheetos Breaded Ice Cream Recipe
Nick @ DudeFoods.com
Deep fried ice cream breaded in Flamin' Hot Cheetos? You've never had deep fried ice cream like this!
Ingredients
2

quarts

oil

for frying

6

scoops ice cream

1

bag ( 8 1/2 ounces)

Flamin' Hot Cheetos

crushed into crumbs

4

eggs

1/2

cup

milk

powdered sugar
Instructions
Place 6 scoops of ice cream on a plate and freeze for at least 30 minutes.

Set up two bowls — milk and beaten eggs in one and crushed Flamin' Hot Cheetos in the other.

Roll each scoop of ice cream in the Flamin' Hot Cheetos, dip it in egg wash and roll it again in the Flamin' Hot Cheetos. Repeat if necessary.

Freeze for at least another 30 minutes.

Heat oil in deep fryer or heavy skillet to 375°F.

Fry for 15 seconds, coat in powdered sugar and serve immediately.