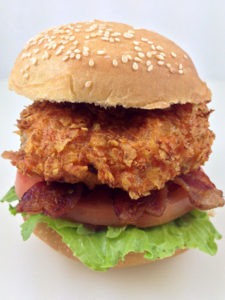 Ever since I made my Doritos Crusted Chicken Strips I've been trying to think of other foods that would benefit from a Doritos breading and then suddenly it came to me, "What about a burger?"
So, I grilled up a 1/3 pound burger patty, let it cool for a few minutes, coated it in flour, egg, and crushed up Doritos and then dropped it in my deep fryer for about 30 seconds. I then threw it on a bun with some lettuce, tomato, bacon and sour cream and took a bite. It was delicious!
Also, this burger is especially exciting because starting tomorrow if you're in the Milwaukee area like I am you can actually order it at Leff's Lucky Town, but only for a limited time!
If you want to try it — and I highly suggest that you do — you'll need to hurry because they're only selling it until Wednesday, April 31st! Plus, $1 from each burger will benefit Autism Speaks and their Light It Up Blue campaign, so not only do you get to enjoy a delicious Deep Fried Doritos Breaded Burger you also get to help out a great charity!