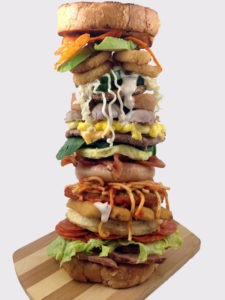 Back when I made the McEverything I mentioned that I'd come up with the idea a few years earlier, but just never really got around to doing it. This Alphabet Sandwich is similar in that aspect.
It's also similar in the fact that it ended up being WAY taller that I expected and almost toppled over at numerous points along the way. Luckily, at this point in my food blogging career I've become quite accustomed to dealing with adversity like this.
Anyway, the idea behind this was to create a sandwich that had 26 different toppings, each one starting with a different letter of the alphabet.
Now, I know that sounds simple enough, but do you realize how difficult it is to find a food that starts with the letter X? To solve that issue I eventually settled on xylocarp, which is defined as "a hard, woody fruit that grows on trees," or in other words, a coconut.
With some other letters I had the opposite problem, in that I had a tough time choosing which foods to use since I immediately came up with so many that started with the same letter. Take F for example, with that one I couldn't decide between French fries and fish sticks.
Eventually though it all came together and as you can see from the photo the Alphabet Sandwich turned out to be a gargantuan tower of food-related gluttony.
Curious as to what was all on my sandwich? Here's a rundown:
Avocado
Bacon
Cheese
Doritos
Egg
Fish sticks
Garlic bread
Ham
Italian sausage patty
Jalapeño peppers
Krispy Kreme doughnut
Lettuce
Macaroni and cheese
Noodles
Onion rings
Pepperoni
Queso blanco dip
Ramen noodles
Spinach
Turkey burger
Usingers bratwurst
Veal Parmesan
Waffle
Xylocarp (coconut)
Yams
Zucchini