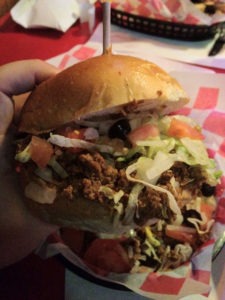 I was at Paulie's Pub & Eatery with some friends one day after work recently and while browsing their menu I noticed the Taco Joe Sandwich.
How could I pass up seasoned ground beef, cheese, tomatoes, onions, black olives and crushed tortilla chips all nestled between a toasted butter top bun? I had to give it a try.
When my sandwich arrived I topped it with some sour cream and salsa and took a bite. Half of the toppings immediately fell out from between the bun and landed on my plate. It was then that I realized exactly why tacos are served in taco shells — because the shells keep everything together. By the time I was half way through my sandwich I was pretty much just eating the bun. At least it was a really good tasting bun though!
Don't get me wrong, I love the idea of a taco on a bun, but unless you hollow out the bun a little bit you're always going to come across the same problem you have when eating a sloppy joe, which is that you can never actually keep enough of the meat inside the bun to give you a decent bun to toppings ratio.
I think from now on I'll just stick to keeping my taco filling inside a shell rather than on a bun since that seems to work a lot better except, of course, when you're eating a hard shell taco and you take a bite only to have the shell break apart and everything fall out anyway. That's the worst…