These chips made from slices of summer sausage are a great substitute for regular chips if you're trying to stick to a keto or low carb diet!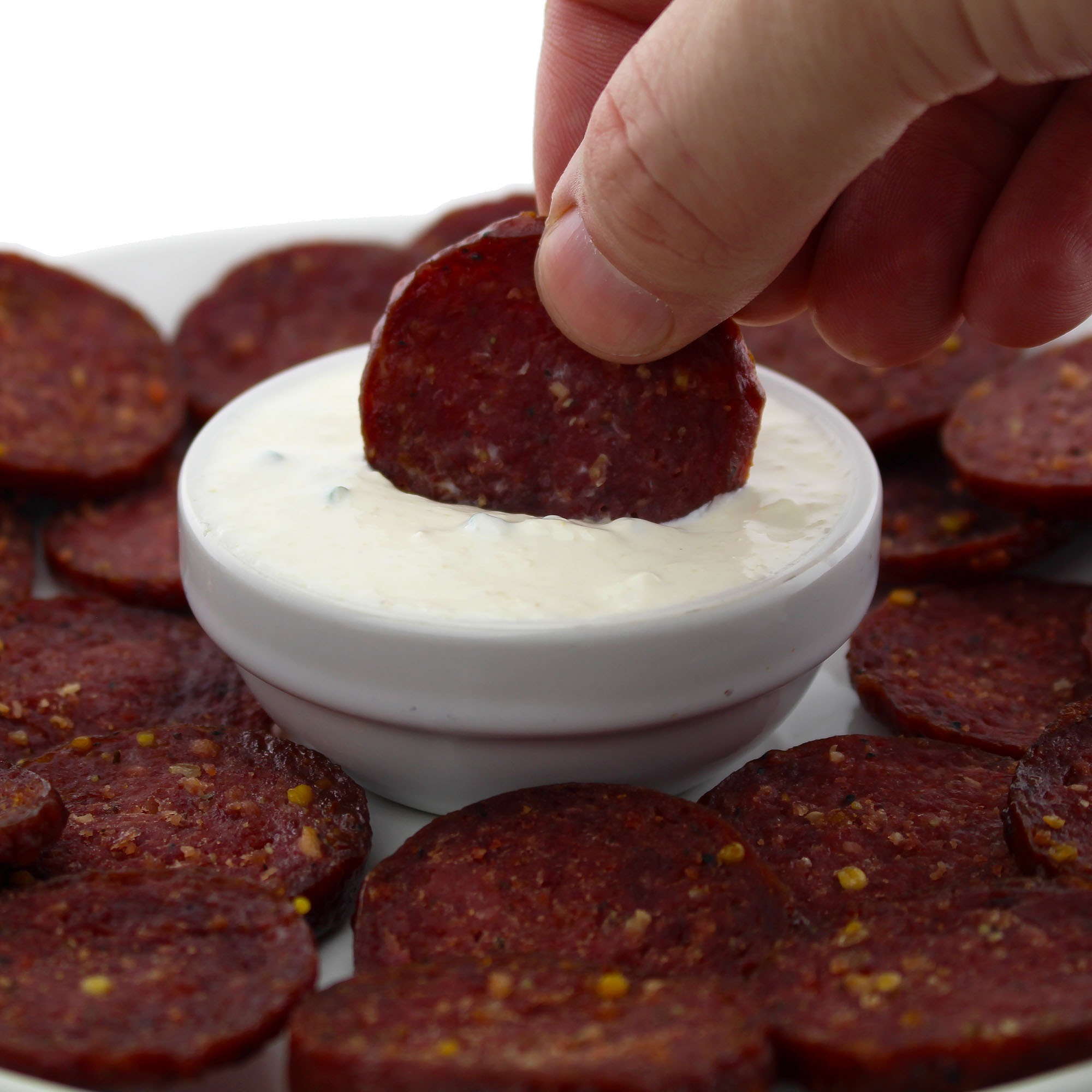 Between New Year's Resolutions and Lent I know a ton of people who gave up carbs and are trying to stick to a keto diet right now and every time I talk to any of them about it one of the main foods they always mention that they miss is chips.
Sure, there are plenty of cheese chips available at this point in grocery stores and it's also really easy just to make your own cheese chips at home, but when I was cleaning out my refrigerator one day recently and noticed an unused summer sausage that was left over from a Super Bowl party that I had I couldn't resist slicing it up and attempting to make chips out of it.
I experimented a bit by slicing the summer sausage into a few different thicknesses and found that 1/4″ slices are basically the optimal size for turning them into chips. I've made pepperoni chips in a similar fashion before using pre-sliced pepperoni and the one thing I didn't like about them was that with them being so thin they break apart really easily after you bake them and then dip them in anything. These summer sausage chips though? You can dip them in pretty much whatever you want and you'll never have to worry about them breaking!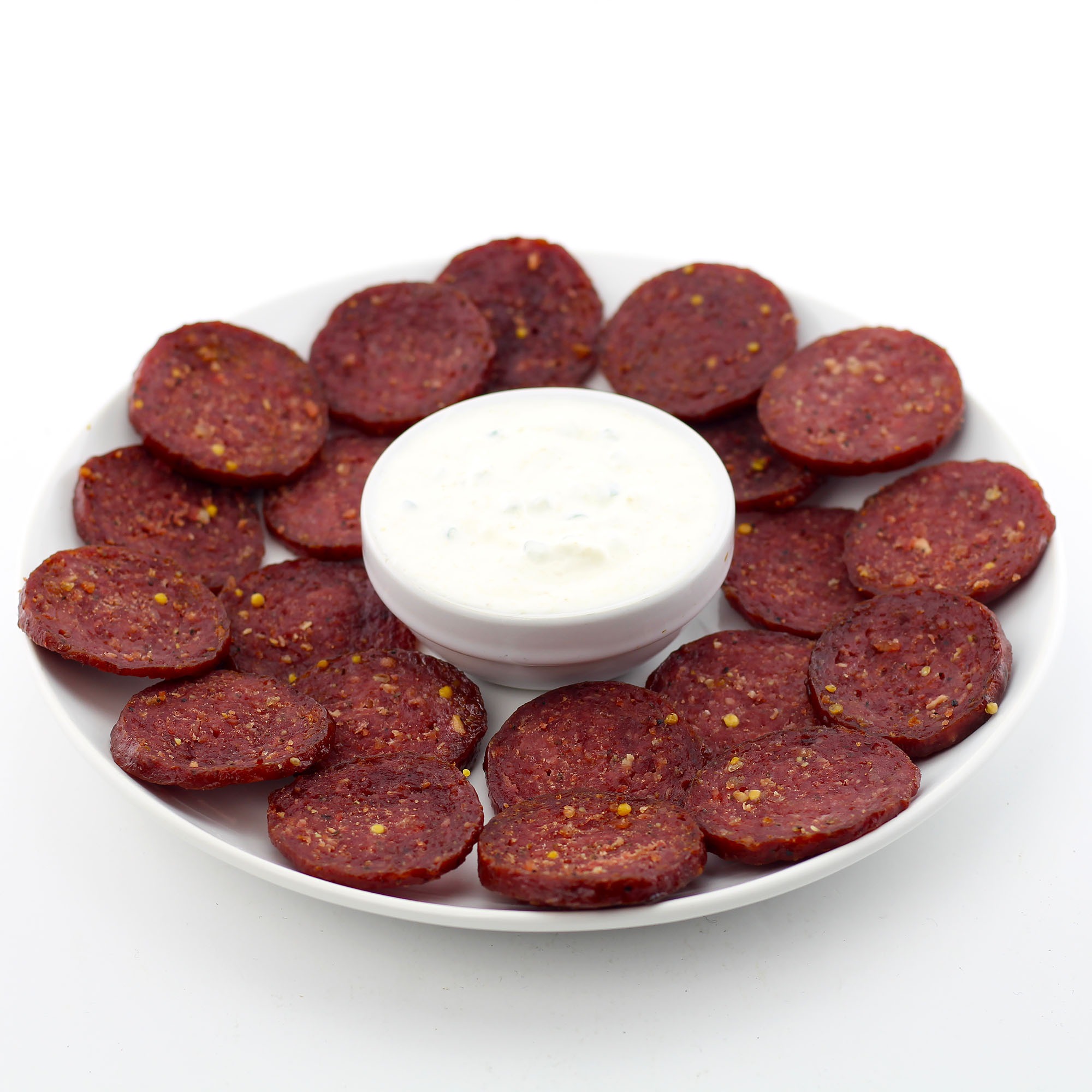 That actually leads me to another question which is, why are there no potato chip companies that are making thicker cut potato chips? Sure, potato chips are great on their own, but they're constantly breaking when you dip them. That's fine when you're sitting at home on your own, but it's the worst when you're at a party watching people stick their fingers straight into the dip as they fish out the random pieces of potato chips that broke off and got stuck in it. Maybe I'll try making some thick cut homemade potato chips next….
Anyway, back to the recipe! once I had my summer sausage cut into 1/4″ thick slices I baked them at 350°F for 20 minutes — flipping them half way through — on a parchment paper lined baking sheet. Like I did with the thickness of the summer sausage slices I also experimented a bit with different baking times and 20 minutes was perfect. If you want your summer sausage chips a little more chewy you could stick with 15 minutes though, or even go for 25 minutes if you'd like them a bit more crispy.
I had some prepared horseradish and some sour cream in my refrigerator already, so I made a horseradish sauce to dip my summer sausage chips in — the recipe is below if you want to make it as well — but these would be great dipped in brown mustard or anything else you want as well.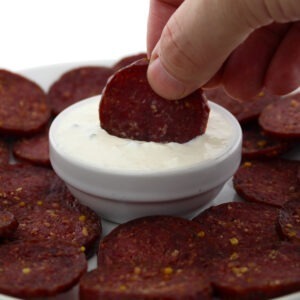 Summer Sausage Chips Recipe
These chips made from slices of summer sausage are a great substitute for regular chips if you're trying to stick to a keto or low carb diet!
Ingredients
Summer Sausage Chips
1

12 ounce

summer sausage
Horseradish Sauce
1/2

cup

sour cream

3

tablespoons

prepared horseradish

drained

2

tablespoons

mayonnaise

1

tablespoon

chives

diced

1

teaspoon

apple cider vinegar

1/4

teaspoon

black pepper

1/4

teaspoon

salt
Instructions
Summer Sausage Chips
Cut summer sausage into 1/4" thick slices using a knife or mandoline.

Line a baking sheet with parchment paper and arrange summer sausage slices in a single layer.

Bake for 20 minutes at 350°F flipping half way through.

Let cool on paper towels and serve with horseradish sauce or your preferred dipping sauce.
Horseradish Sauce
Combine all the ingredients together in a small mixing bowl and stir until combined.