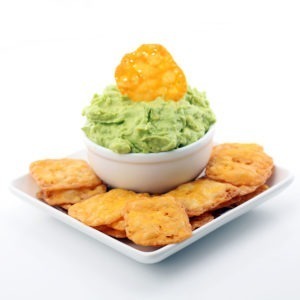 I get a lot of requests here on DudeFoods.com for keto recipes, and in asking people on low carb diets which types of foods they miss eating the most the two answers I always get are macaroni and cheese and chips.
As far as the macaroni and cheese goes there are already plenty of low carb noodle options available out there, and recently I've even seen low carb chips made from cheese pop up in grocery stores as well.
The problem with these cheese chips though is that out of the few different brands I've purchased they usually average about $1.25 an once in price, bringing the cost of a pound of cheese crackers to $20. The grocery store that's the closest to my house actually sells a 3 ounce package of Parmesan cheese chips for $7.99. That's over $42 a pound for Parmesan cheese! When you can buy a pound of cheese at the grocery store for around $4 or $5 though wouldn't it make more sense just to bake your own cheese chips?
Luckily for you it's actually super easy to make cheese chips at home! All you need to do is line a baking sheet with parchment paper, slice your cheese into small squares and then bake them for 30 minutes at 250°!
If you want your cheese chips a little more crispy you can add a couple minutes of baking time, and if you don't want them quite as crunchy you can subtract a couple minutes. It;s as simple as that!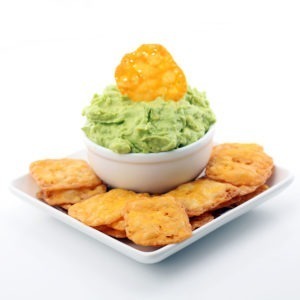 100% Cheese Keto Chips Recipe
Nick @ DudeFoods.com
Are you following a keto diet? Do you miss eating chips? If that's the case then these 100% cheese chips are perfect for you!
Ingredients
4

pieces

of cheese (I used Cheddar and Colby-Jack)
Instructions
Preheat oven to 250°.

Slice each piece of cheese into 4 squares.

Place cheese on a parchment paper covered cookie sheet and bake for 30 minutes.