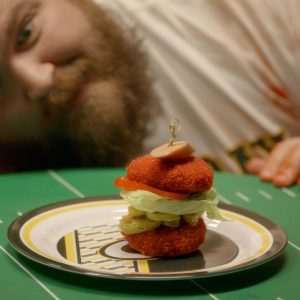 Recently I partnered with two Wisconsin companies, Pick 'n Save and Johnsonville to create a series of over-the-top Gameday Grub videos celebrating everything we love about Wisconsin.
The videos star Green Bay Packers super fan, Randy, who spends his game days exiled to his basement by his wife Denise so he doesn't ruin their kitchen cooking his crazy DudeFoods-esque recipes.
Three weeks ago I shared an Andouille Mac & Cheese Pie with Bacon Weave Crust recipe with you, two weeks ago it was Brown Gravy and Cheese Curd-Smothered Brat Sticks and last week it was Scrambled Egg and French Toast Breakfast Sausage Shooters.
For the fourth recipe and video we took some Johnsonville Ground Italian Sausage, formed it into patties, coated them in cheese-curls and then used them as the buns for Spicy Salad Sandwiches that were packed with lettuce, tomato and giardiniera peppers.
When you really think about it though, these breaded Italian sausage patties would be a delicious substitute for pretty much any type of bun. Even if you're not a fan of hot snacks you could easily substitute any other type of cheese snack or chip for the breading.
If you'd like to make these amazing sandwiches for yourself, the recipe is below! Enjoy!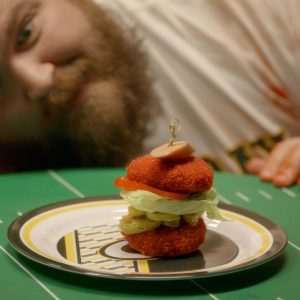 Spicy Salad Sandwiches with Cheese-Curl Encrusted Sausage Buns Recipe
Nick @ DudeFoods.com
Regular buns are swapped out for Flamin' Hot Cheetos breaded sausage buns in this spicy slider recipe!
Ingredients
2

packages

Johnsonville Ground Italian Sausage

2

quarts

oil

for frying

1

bag

cheese curls

preferably of the "Flamin' Hot" variety

1 1/2

cups

flour

4

eggs

1/2

cup

milk

1

tomato

lettuce

giardiniera peppers
Instructions
Separate Johnsonville Ground Italian Sausage into six separate portions and form into patties.

Fry patties over medium heat for 5 minutes per side or until internal temperature reaches 160°.

Set up a dredging station with three bowls – flour in the first, beaten eggs and milk in the second and crushed cheese-curls in the third.

Coat each sausage patty in flour, dip in the egg wash and cover in cheese-curls.

Deep fry the buns at 375° for 2 minutes.

Assemble sandwiches by topping each cheese-curl encrusted patty with lettuce, tomato, giardiniera peppers and finally a second cheese-curl encrusted patty.