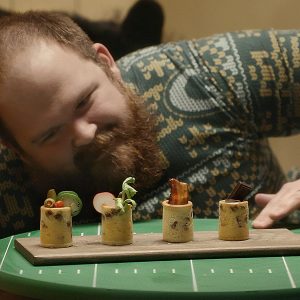 Recently I partnered with two Wisconsin companies, Pick 'n Save and Johnsonville to create a series of over-the-top Gameday Grub videos celebrating everything we love about Wisconsin.
The videos star Green Bay Packers super fan, Randy, who spends his game days exiled to his basement by his wife Denise so he doesn't ruin their kitchen cooking his crazy DudeFoods-esque recipes.
Two weeks ago I shared an Andouille Mac & Cheese Pie with Bacon Weave Crust recipe with you, and last week it was Brown Gravy and Cheese Curd-Smothered Brat Sticks.
For the third recipe and video we created the most delicious shooters you've ever tasted! Yep, these shooters are made from scrambled eggs and Johnsonville French Toast Breakfast Sausage and they're entirely edible and they're delicious!
Previously I've made edible shot glasses out of things like corn bread and pancakes, but the idea for scrambled egg shot glasses has always been one I've wanted to try. The problem is, every time I've attempted to make them they turned out way too flimsy to hold anything inside of them.
Recently though it was brought to my attention that a certain restaurant chain that's known specifically for their pancakes actually adds a little bit of pancake batter to their omelettes to make them more dense. Since density was exactly what I needed for these scrambled egg shooters I gave it a shot and sure enough, it worked like a charm! I also threw some diced Johnsonville French Toast Breakfast Sausage right into the batter as well, which was pretty much the icing on the cake as far as taking these to the next level.
I know that the recipe calls for eight breakfast sausages, but you're going to want to have plenty of extras on hand to snack on as you're cooking because these things are GOOD. Seriously, if you can make this recipe without eating three or four – or ten or eleven – of the French Toast Breakfast Sausages along the way then I applaud you because you have way more self-control than I'll ever have when it comes to sausage.
If you'd like to make Scrambled Egg and French Toast Breakfast Sausage Shooters for yourself, the recipe is below! Enjoy!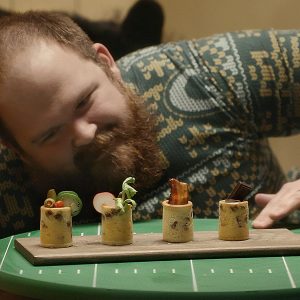 Scrambled Egg and French Toast Breakfast Sausage Shooters Recipe
Nick @ DudeFoods.com
Shot glasses made out of scrambled eggs? Yep, your breakfast just got upgraded!
Ingredients
8

Johnsonville French Toast Breakfast Sausages

8

Eggs

2

cups

pancake batter

your choice of fillings and garnishes
Instructions
Cook Johnsonville French Toast Breakfast Sausages according to the directions on the package and dice into small pieces.

Beat 8 eggs and combine with diced breakfast sausage and pancake batter into a measuring cup with a pourable spout.

Stray non-stick cooking spray into shot glass mold.

Pour egg and sausage mixture into shot glass mold and bake at 350° for 30 minutes or until a toothpick inserted into the shooters comes out clean.

Remove shot glass mold from the oven, let cool and with a sharp knife slice off any egg remnants that baked over the top of the mold so your shooters are left with a flat bottom.

Pop shooters out of the mold and fill each one with a unique filling and garnish.