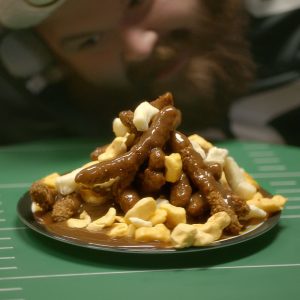 Recently I partnered with two Wisconsin companies, Pick 'n Save and Johnsonville to create a series of over-the-top Gameday Grub videos celebrating everything we love about Wisconsin.
The videos star Green Bay Packers super fan, Randy, who spends his game days exiled to his basement by his wife Denise so he doesn't ruin their kitchen cooking his crazy DudeFoods-esque recipes.
Last week I shared the first one with you — Andouille Mac & Cheese Pie with Bacon Weave Crust — and now I'm back with the second — Brown Gravy and Cheese Curd-Smothered Brat Sticks!
In the past, I've diced up brats, breaded them with crushed pretzels and deep fried them and they were amazing. This time though I switched things up by slicing them lengthwise so they were shaped more like French fries. Then, just to take the dish to the next level I decided to turn it into poutine by topping a pile of brat fries with cheese curds and gravy.
If you don't have cheese curds readily available to you, (first off, I feel extremely sorry for you because there's nothing better than biting into a fresh, squeaky cheese curd) the closest thing would probably be diced chunks of mild cheddar cheese. It won't taste quite the same, but it will at least be close. Skip shredded cheese as a substitute though.
What's great about cheese curds in poutine is that they soften, but don't melt completely, so you don't just want a bunch of melted cheese mixed in with your gravy. Some cheese is definitely better than no cheese though!
If you'd like to make Brown Gravy and Cheese Curd-Smothered Brat Sticks for yourself the recipe is below! Enjoy!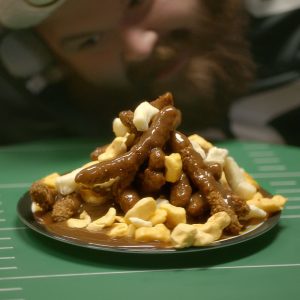 Brown Gravy and Cheese Curd-Smothered Brat Sticks Recipe
Nick @ DudeFoods.com
The recipe which features pretzel breaded bratwurst sticks topped with gravy and cheese curds is like a souped up version of poutine!
Ingredients
6

Johnsonville Tailgate Brats

2

quarts

oil

for frying

3

cups

flour

8

eggs

1

cup

milk

1

bag (16 ounces)

pretzels

16

ounces

cheese curds

12

ounces

brown gravy
Instructions
Cook Tailgate Brats according to the directions on the package and slice each one lengthwise into four pieces.

Heat oil in deep fryer or heavy skillet to 375°F.

Set up a dredging station with three bowls – flour in the first, beaten eggs and milk in the second and crushed pretzels in the third.

Coat each brat stick in flour, dip in egg wash and cover in crushed pretzels.

Deep fry for 2 minutes or until golden brown.

Place deep fried Brat Sticks on a plate and top with cheese curds and warm gravy.