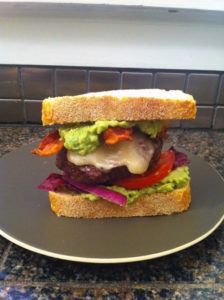 As much as I'd love to take the credit for creating this incredible burger, the honor actually goes to the Cheese & Burger Society, which is a website that honors Wisconsin cheese through various delicious burger recipes.
The San Francisco Burger features Wisconsin Fontina cheese atop a beef patty as well as sliced tomatoes, red onions, guacamole, bacon and lettuce all between two slices of sourdough bread. If you've been reading my blog for a while I know that you're probably used to seeing a few more pictures of the food I eat, but honestly, this burger was so good and I ate it so fast that I didn't even think about taking any more shots of it.
In addition to hooking me up with a free shirt (which you can see my dog Finn proudly sporting in one of the picture below) the Cheese & Burger Society also gave me some pretty sweet prizes to give to the readers of DudeFoods. One lucky winner will receive a Cheese & Burger Society work shirt, another will receive an apron and two more will receive beer koozies.
Wanna get your hands on one of these prizes? Just head to the Cheese & Burger Society website and leave a comment here on DudeFoods telling me which of their burgers looks the best to you. I'll select the four lucky winners randomly on June 27th. Good luck!