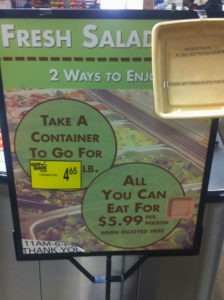 I know it might be a surprise to some of you, but I don't always spend my lunch breaks eating at places like McDonald's and Burger King. There are even some times (although they're few and far between) when I try to eat healthy by going to the salad bar at the Pick 'n Save grocery store near my work.
Pick 'n Save has two options at their salad bar; either you can pay $4.65 per pound and get your salad to go, or you can pay an extra $1.34 to stay there and eat all the delicious salad you want. Any time I've gotten a salad to go its always ended up costing me more than $5.99 anyway, so on my most recent visit I decided to go the all you can eat route.
For my first plate I made a salad with romaine lettuce, spinach, chicken, eggs and mushrooms and covered it in ranch dressing. After I finished that I decided to try a plate with two of their pre-made salads; tortellini vegetable salad and pasta salad. My third plate of salad was almost identical to my first except that with this plate I swapped out the mushrooms for some shredded Cheddar cheese. For plate number four I tried some cottage cheese and a couple more of their pre-made salads; a seven layer salad and some American pasta salad. Apparently the lack of ham is what makes the American pasta salad "American," because aside from that it was almost identical top the regular pasta salad. I think they need to differentiate the two pasta salads a little more and maybe add some bacon to the American pasta salad. What's more American than bacon right?
At this point I was pretty full, but decided to have one more plate of salad anyway. My fifth and final plate was piled high with romaine lettuce, spinach, ham and turkey chunks, feta cheese, chicken and eggs and was topped with ranch dressing. Come to think of it, with the amount of dressing I put on the salads that I made and the number of noodles I ate in Pick 'n Save's pre-made salads it probably would have ended up being healthier for me to just eat lunch at McDonald's instead.