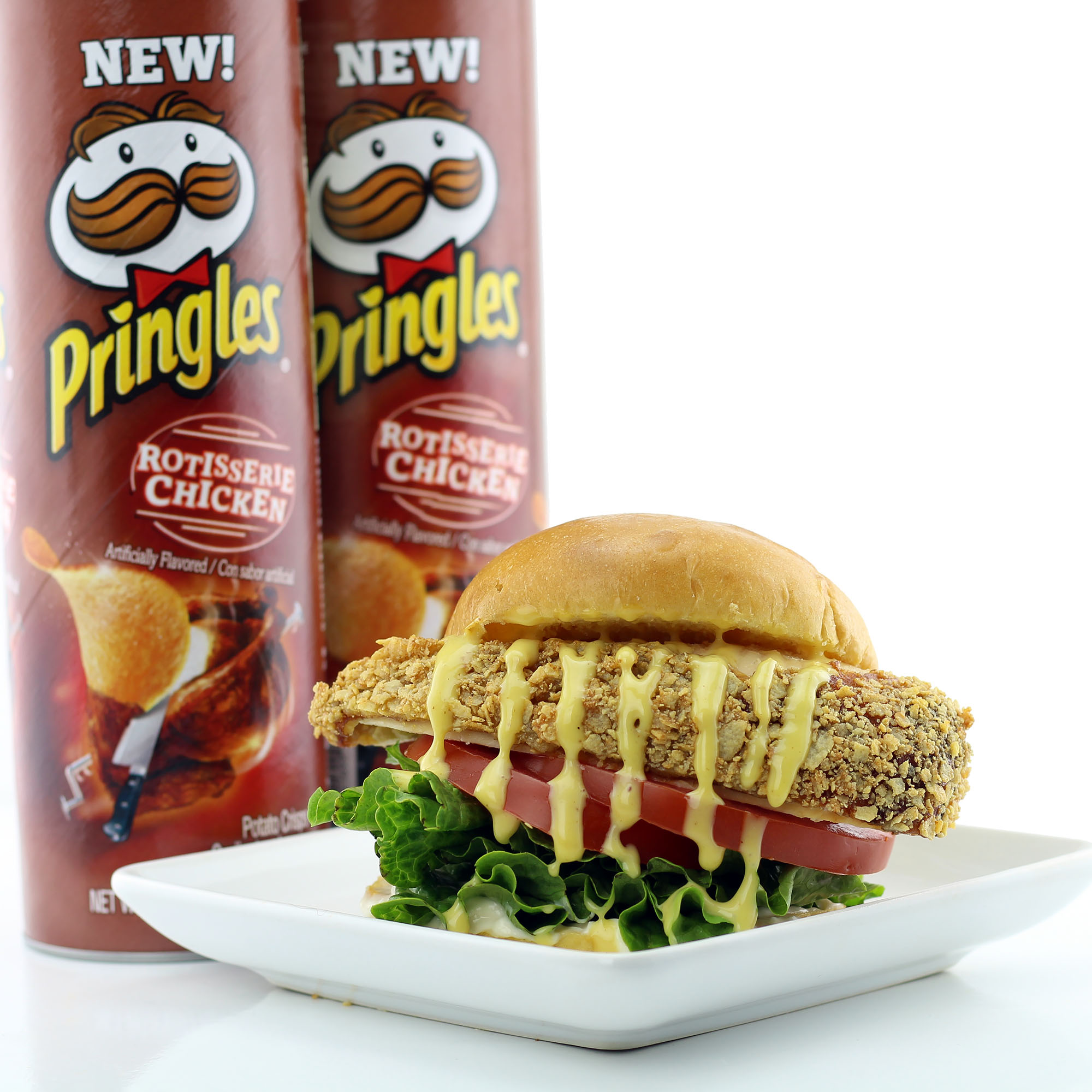 A while back I was tagged in a tweet from The Impulsive Buy that said "I want to make deep fried Costco rotisserie chicken using Rotisserie Chicken Pringles as the breading. Or wait for DudeFoods to do it, because he'd do it better." Challenge accepted!
Fun fact: Did you know that Costco actually loses $30 to $40 million a year selling rotisserie chickens because they use them as a loss leader and refuse to raise the price higher than the $4.99 that they charge?
I guess it works out pretty well for them though because on the day I stopped in to pick one up for this blog post — which was the only thing I planned to buy that day — I also ended up walking out with a six pound bag of frozen meatballs, four pounds of sliced cheese, two 64 ounce jars of mayonnaise and a tub of spinach and artichoke dip that will probably last me two weeks. It's also probably why they keep the rotisserie chickens way in the back of the store….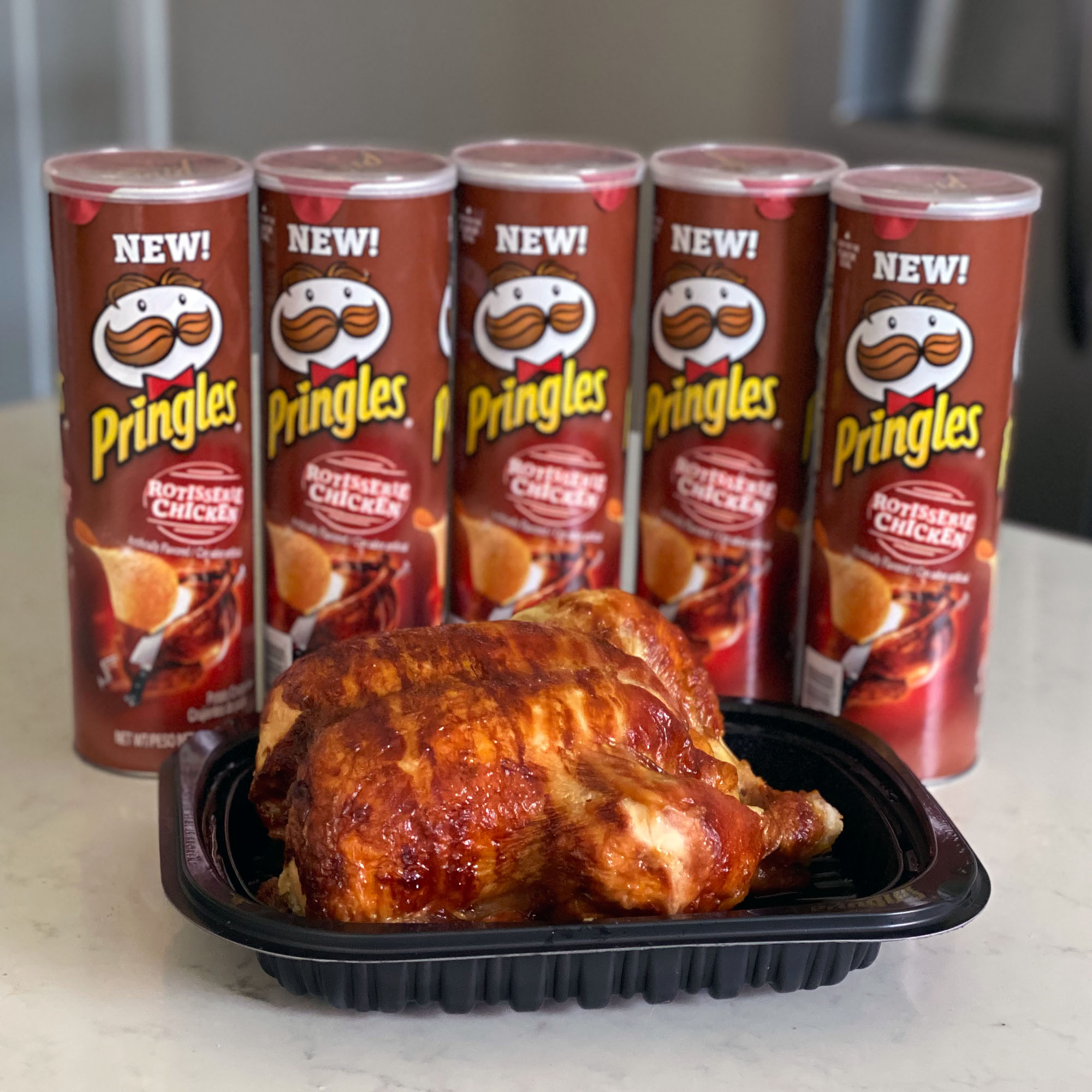 The Rotisserie Chicken Pringles on the other hand were a total pain in the ass to find. I went to five different places before I finally found them. In retrospect I probably should have just paid the extra few dollars a can and bought them from the random person I found selling them on Amazon but I also didn't realize I was going to spend two hours driving around aimlessly when I initially set out to buy them.
Tastewise the Rotisserie Chicken Pringles remind me of a toned down version of BBQ flavored Pringles, which I guess makes sense since regular rotisserie chickens themselves have sort of a toned down BBQ taste as well.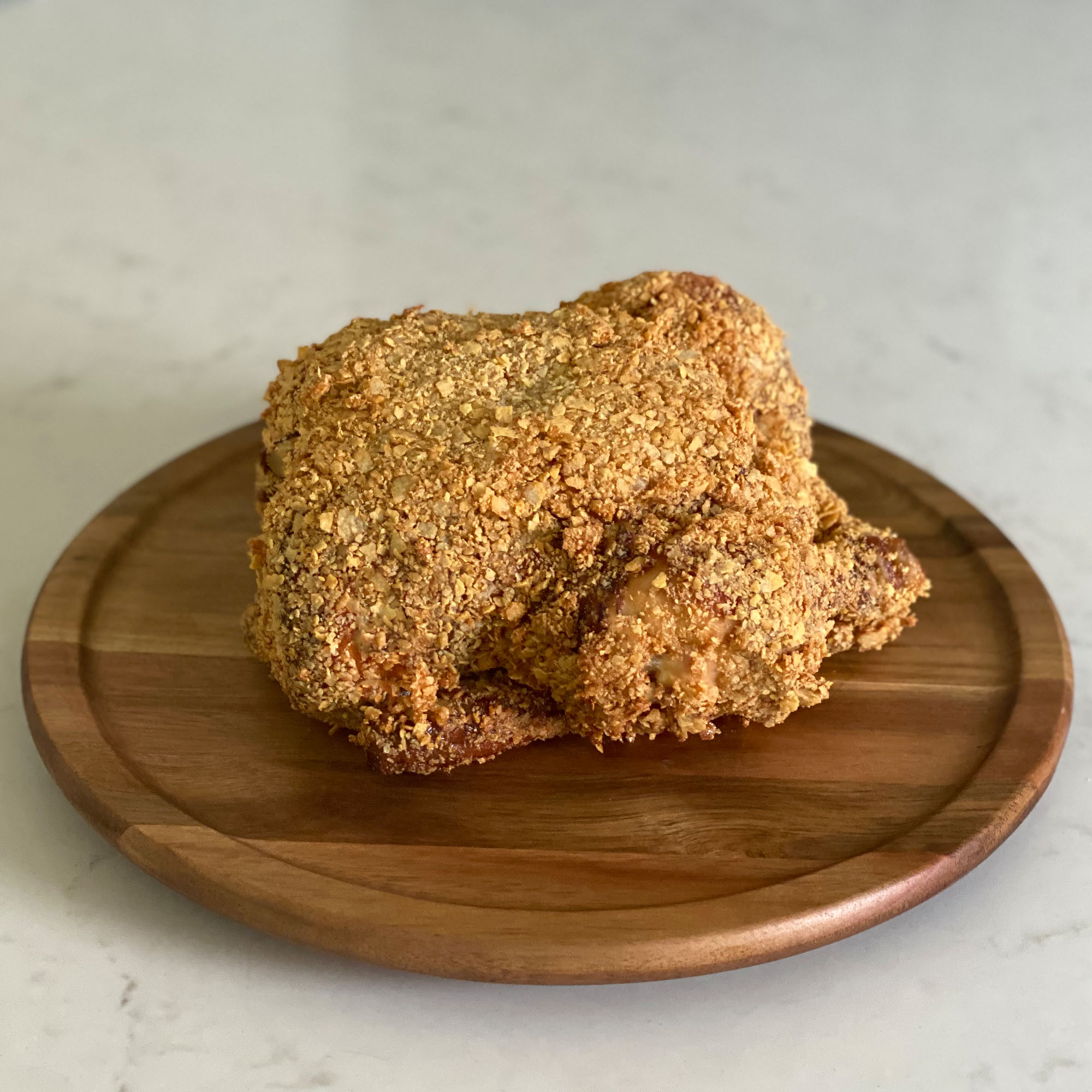 I definitely enjoyed them though. I'm not sure if it's necessarily because they tasted so good or because after not eating Pringles for a couple years I was just jonesing for some stackable snack chips but I ate about half a can of them before I even started filming the video to go along with this blog post.
I used a total of two cans of crushed up Pringles to bread my rotisserie chicken, which was the perfect amount to give it a nice even coating. It also left me with three cans to eat separately, since I totally overcompensated and picked up five cans to begin with. You'd think that after years and years of deep frying food I'd have a better grasp on how many chips I'd need, or maybe I just subliminally bought too many knowing that it had been way too long since I last ate Pringles.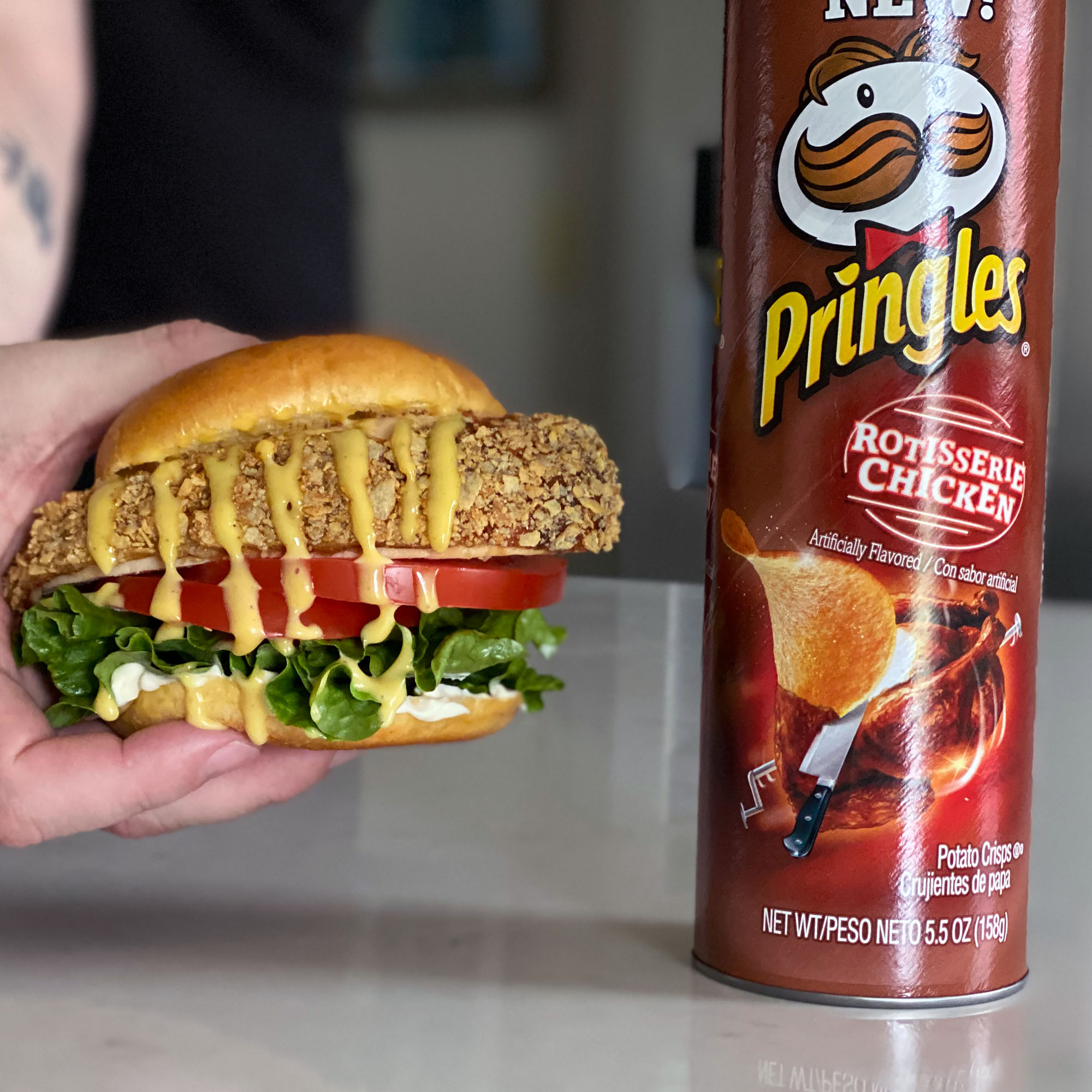 Since coating a rotisserie chicken in Pringles, dropping it in my deep fryer and calling it a day would have been pretty boring on its own I decided to slice it up when I was done and use the Pringles breaded chicken pieces to make a sandwich that also included lettuce, tomato, mayo and a homemade honey mustard sauce. It was easily one of my favorite sandwiches I've ever made.
So, thanks again to The Impulsive Buy for the amazing idea idea! Hopefully I didn't let you down. Now if you'll excuse me I've got a couple cans of Pringles and a whole lot of chicken to eat!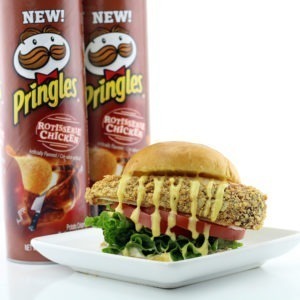 Rotisserie Chicken Pringles Breaded Rotisserie Chicken Sandwiches
Nick @ DudeFoods.com
When Pringles unveils a rotisserie chicken flavor the only logical thing to do is to bread a Costco rotisserie chicken in them, deep fry it and then slice it up and use it to make chicken sandwiches.
Ingredients
Rotisserie Chicken
2

cans

Rotisserie Chicken Pringles

crushed

1

Costco rotisserie chicken

3

eggs

1/2

cup

milk

2

quarts

oil

for frying
Honey Mustard Sauce
1/2

cup

mayonnaise

2

tablespoons

Dijon mustard

2

tablespoons

honey

1

tablespoon

yellow mustard

1

tablespoon

vinegar

1

tablespoon

fresh chives

diced

salt and pepper

to taste
Chicken Sandwiches
6

buns

mayonnaise

lettuce

1

tomato

sliced
Instructions
Rotisserie Chicken
Heat oil in deep fryer or heavy skillet to 375°F.

Set up two bowls — milk and beaten eggs in one and crushed Pringles in the other.

Brush rotisserie chicken with egg wash and coat in crushed up Pringles.

Fry for 3 minutes or until golden brown.
Honey Mustard Sauce
Combine all the ingredients in a bowl and stir until smooth.
Sandwich Assembly
Take a bottom bun or slice of bread and spread mayonnaise on it and top with lettuce, tomato, slices of Rotisserie Chicken flavored Pringles breaded chicken. Drizzle with honey mustard sauce and top with a top bun or second slice of bread.