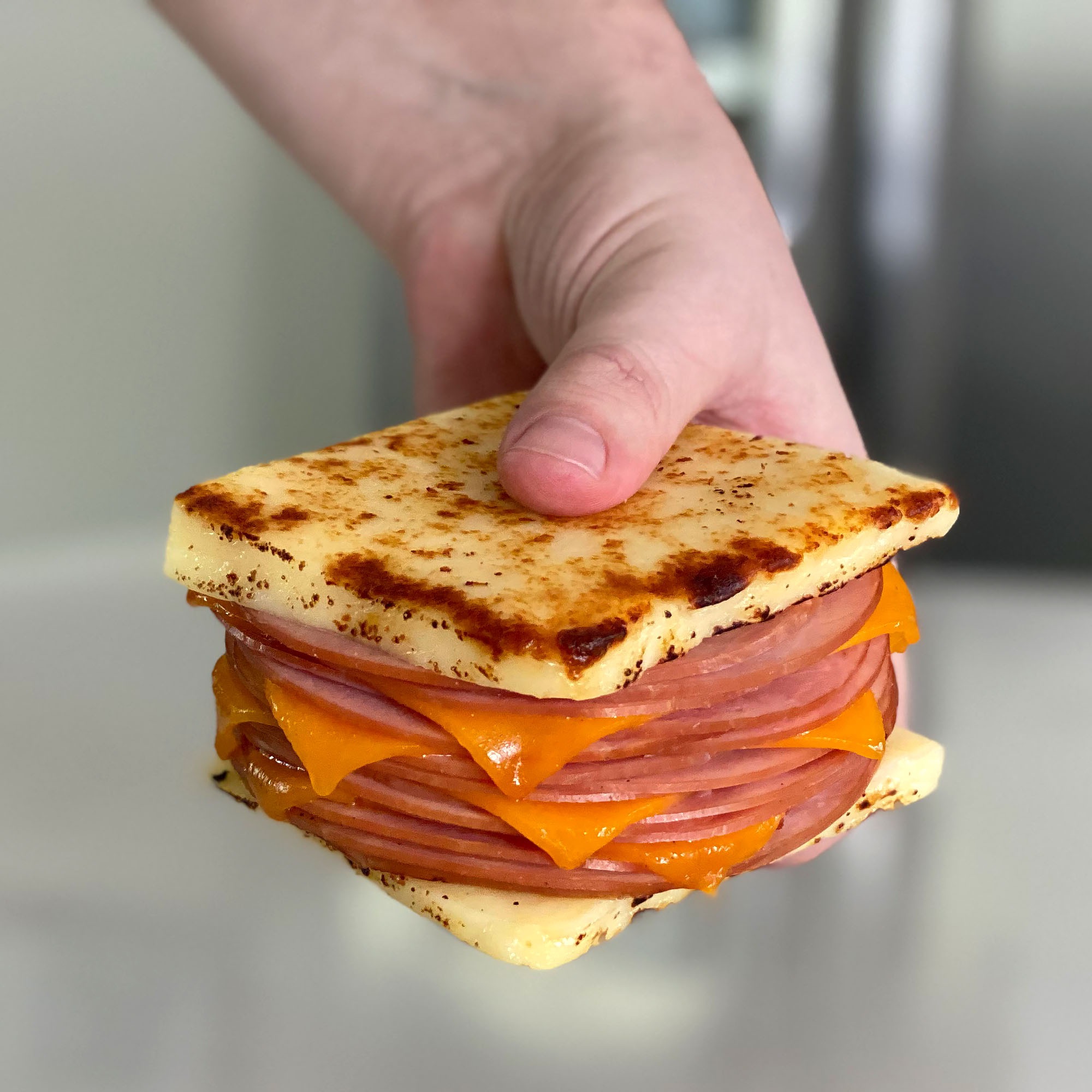 Here in Wisconsin there's a cheese company named Carr Valley that produces a cheese that they refer to as Bread Cheese.
It's their take on a Finnish cheese called Juustoleipä — which translates to mean "cheese bread" — that's actually meant to be fried or sautéed prior to serving.
Apparently it's also really good diced into small pieces that are then added to a coffee cup prior to hot coffee being poured over them. I pretty much only drink cold brew though so I've never tried that because I can only assume that pouring cold coffee over the cheese wouldn't quite have the same effect….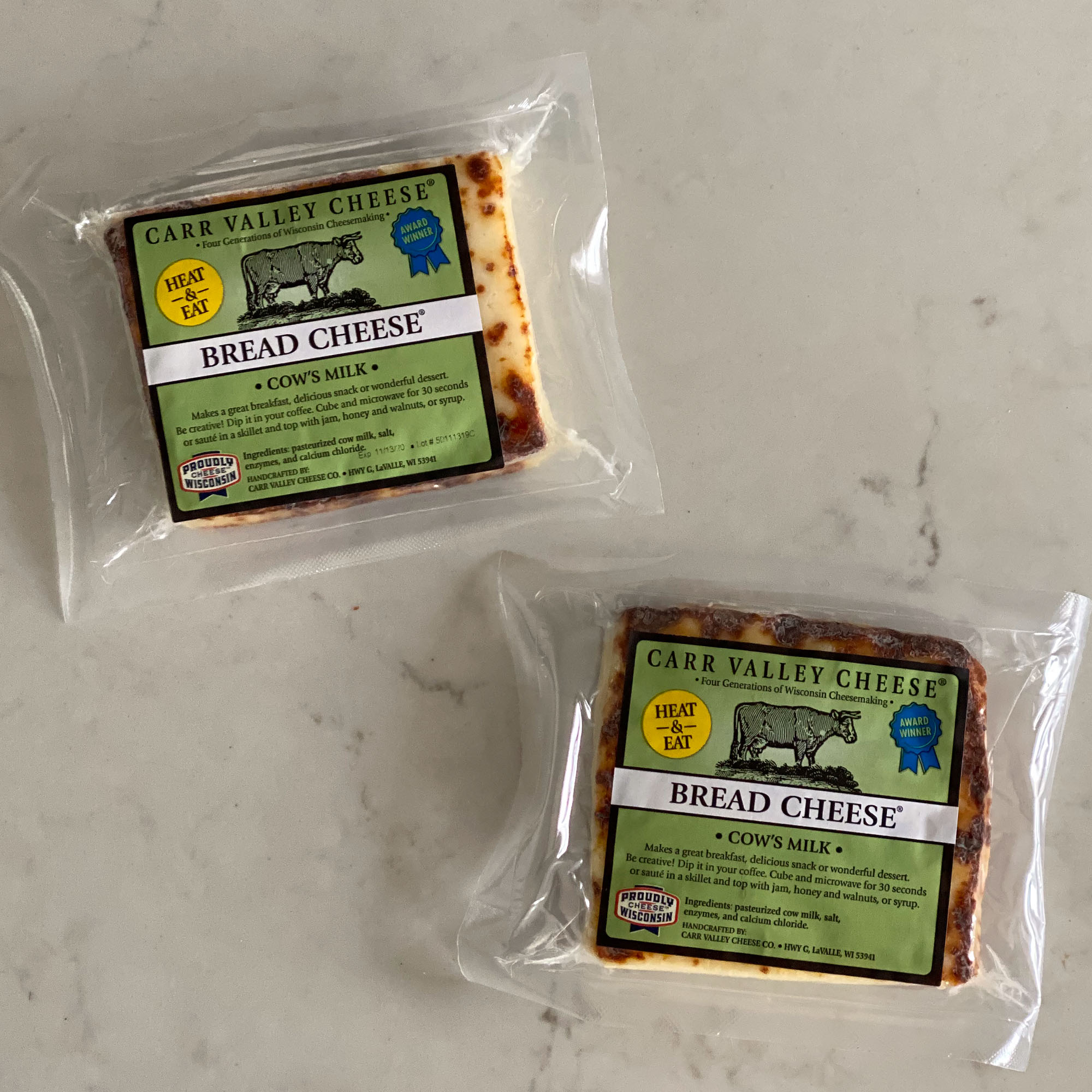 Carr Valley also mentions that the cheese pairs well with honey, jam or syrup. What they don't mention however is using their Bread Cheese in lieu of actual bread when making a sandwich. They also don't specifically say that you shouldn't use it in place of actual bread though so here we are….
I used their Bread Cheese seven years ago to make a 100% Cheese Grilled Cheese Sandwich, but one day recently I worked up a hunger that a few slices of Cheddar between two squares of Bread Cheese just couldn't satisfy and thus the Bread Cheese Hot Ham and Cheese Sandwich was born!
With sandwiches I always like to have an even bread to filling ratio — even in instances like this where the "bread" is cheese itself — so I packed this one with half a pound of ham and four slices of cheese. After a couple minutes on each side in a skillet over medium heat the ham was nice and warm, the Cheddar was melted and I had myself a pretty, pretty great sandwich.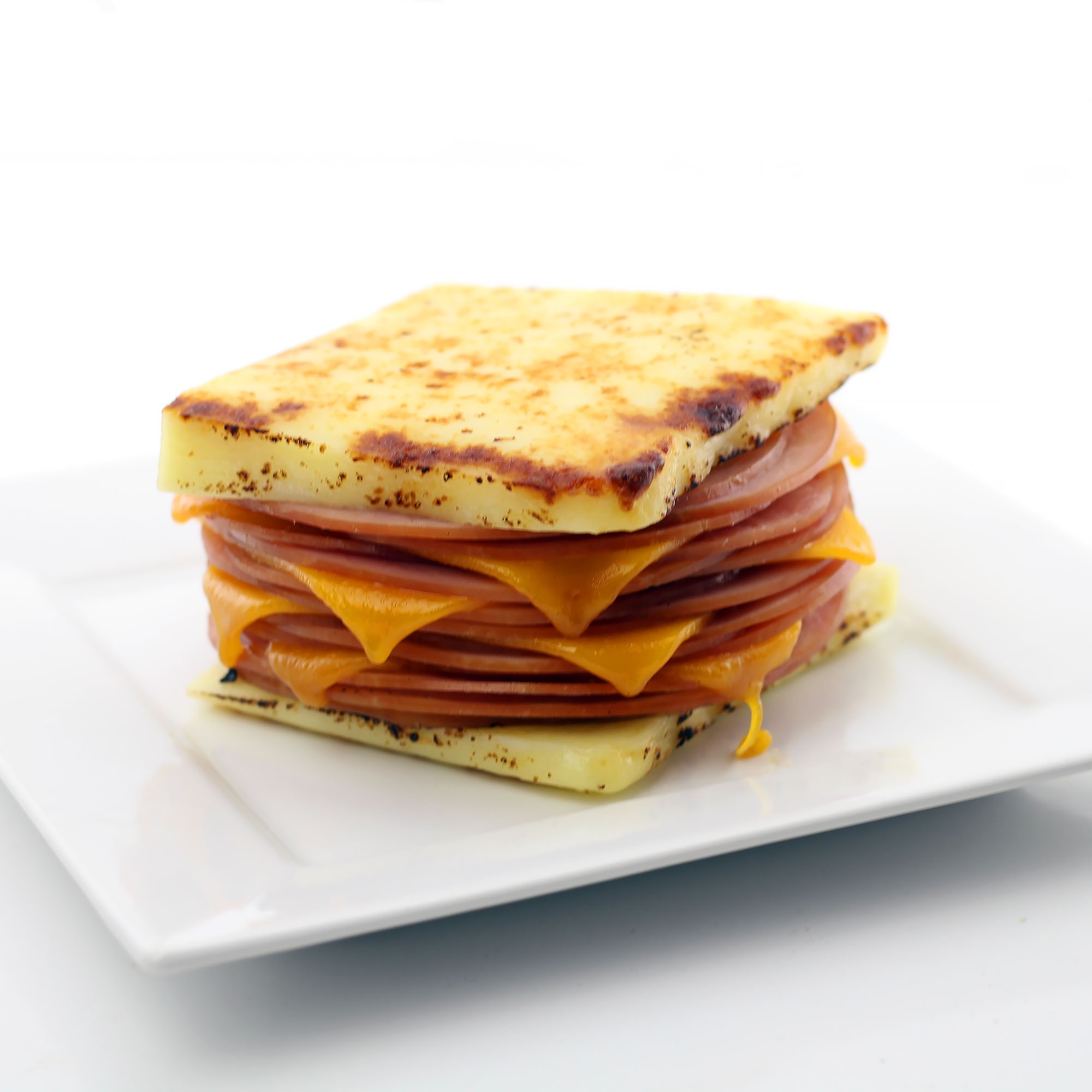 Now I clearly know nothing at all about eating healthy or dieting, but seeing as how this sandwich is low carb I'm pretty sure that if you're looking to lose weight you could just eat three of these a day for a few weeks and watch the pounds just melt away.
In all seriousness though, if you're really looking for low carb recipes you might wanna check out my Air Fryer Keto Chicken Nuggets, 100% Cheese Keto Chips, Cheddar Cheese Bacon Cheeseburger Bowls or Keto Fried Ice Cream recipes. Or, just stick with Bread Cheese sandwiches. I won't judge you.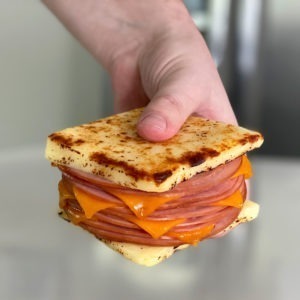 Bread Cheese Hot Ham and Cheese Sandwich Recipe
Nick @ DudeFoods.com
Are you on a keto or low carb diet? Then try this hot ham and cheese sandwich that uses even more cheese as the bread!
Ingredients
1

block

Bread Cheese

8

ounces

ham

4

slices

Cheddar cheese
Instructions
Slice a block of Bread Cheese in half so you're left with two thin squares. If your Bread Cheese is rectangular in shape — as it's often sold — cut it around the edges as well so you end up with squares that are roughly the size of a slice of bread.

In a skillet over medium heat place one square of Bread Cheese and top it with ham and Cheddar cheese and then finally a second square of Bread Cheese and heat for two minutes per side or until the ham is warm and the Cheddar cheese is melted.