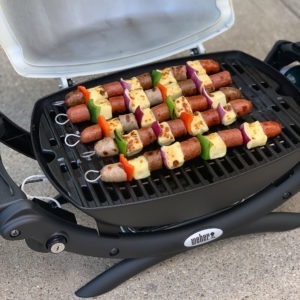 Earlier this month I used my new Weber Q 1200 gas grill to make some pretty delicious Pizza Stuffed Poblano Peppers.
I just grilled the peppers in my backyard, but now that baseball season is in full effect and due to the fact that we're really only guaranteed five months or so of decent weather here in Wisconsin I'm all about heading to Milwaukee Brewers games and tailgating in the parking lot for a couple hours leading up to the first pitch. So, I figured that for my second recipe and video for Weber Grills nothing would be a better fit than a tailgating recipe!
For those of you who have never been to a Brewers game, in the middle of the 6th inning at every Milwaukee Brewers home game five people don sausage costumes — bratwurst, chorizo, hot dog, Italian sausage and Polish sausage — and race around the baseball diamond.
Back in 2015 I made Racing Sausages Corn Dogs by skewering pieces of all five racing sausages on single corn dog sticks, which I then dipped in corn dog batter and deep fried until they were golden brown. Since bringing a deep fryer to a tailgate isn't exactly the most practical thing though I've come up with a substitute that's just as delicious — Racing Sausages Kebabs!
To make these kebabs I started off by grilling a hot dog, an Italian sausage, a Polish sausage, a bratwurst and a chorizo sausage on my Q 1200 grill. I then sliced each sausage into five pieces and added a piece of each sausage — plus red and green peppers and onion — to five different kebab sticks. That way, as you're eating your kebabs you get a little bit of every single racing sausage with each one.
To give the kebabs even more of a Wisconsin touch I also added cubes of Juustoleipa, which is a cheese that originated in Finland that a few different cheese companies here in Wisconsin produce. Juustoleipa is meant to be fried and instead of melting it sort of just glistens and gets nice and soft, which makes it perfect for kebabs! Basically these kebabs are just big sticks packed with meat and cheese and a few random vegetables thrown in so you can try to convince yourself that you're at least eating a little bit healthy.
As someone who does a lot of tailgating let me tell you, the Q 1200 is perfect for game day! I have a Honda Civic, which has pretty limited trunk space and even with the collapsable rolling cart attached to my grill I still always have plenty of room left in my trunk for beer, burgers, sausages and all the other tailgate essentials.
I'm lucky enough to have a nice big backyard patio these days, but back when I didn't I would have loved to have one of these grills on my old apartment balcony. It's the perfect size if you have limited space, the perfect size for fitting in the trunk of your car and the perfect size for grilling kebabs or anything else you have in mind. Basically it's just the perfect all-around portable grill!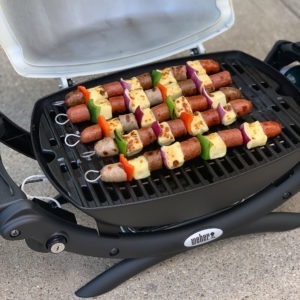 Racing Sausages Kebabs
Nick @ DudeFoods.com
Here's a kabob recipe for all you Milwaukee Brewers fans that features hot dogs, Polish sausages, Italian sausages, brats and chorizo!
Ingredients
1

hot dog

1

Italian sausage

1

Polish sausage

1

bratwurst

1

chorizo sausage

2

bricks

Juustoleipa cheese

Your choice of vegetables
Instructions
Grill sausages according to the directions on the packages.

Slice each sausage into 5 equal-sized pieces, slice bricks of Juustoleipa cheese into 1 inch cubes and slice vegetables into 1 inch squares.

Assemble your kebabs by adding a piece of sausage, a cube of cheese and a vegetable and continue in that order until you have one of each sausage on each kebab stick and each kebab stick is completely full.

Return to the grill for 2 minutes per side.

Remove from the grill and serve.