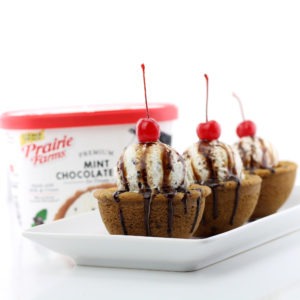 The last time I wrote about Prairie Farms I was using their cream cheese to make Jalapeño Popper Corn Dogs. Well, it turns out that in addition to cream cheese they make some pretty amazing ice cream as well.
The most recent addition to their lineup is their Premium Small Batch Ice Cream. It's made with local milk and cream that comes from farmers who don't use any artificial growth hormones and it's available in 25 flavors — everything from Cinnamon Bun to Peanut Butter & Banana to Lemon Raspberry Cheesecake. They've also got the classics like Vanilla and Chocolate Chip Cookie Dough as well.
I've tried two different flavors so far — Mint Chocolate Chip and Pineapple Upside Down Cake — and they were both delicious so I'm psyched to check out as many of the 23 others as I can. Do you know what makes their ice cream even better though? When you're eating it out of chocolate chip cookie bowls!
I used a Bake-a-Bowl Pan to make my chocolate chip cookie bowls, but if you don't want to invest $9.99 in one of those you could also form your cookie dough around an upside down muffin tin and bake your cookie bowls that way. They probably just won't end up quite so perfectly shaped if you go that route….
I've included my chocolate chip cookie dough recipe below, but if you have a go-to recipe that you prefer you could always use that one instead. Or, if you want to make things super easy you could always just buy some pre-made cookie dough from the grocery store.
Want to try Prairie Farms Premium Small Batch Ice Cream for yourself? You can find a coupon for it at PrairieFarms.com/coupons, and while you're there should you probably click the "Join Our Movement link" where you can sign up for a chance to win free ice cream. One grand prize winner will even get an entire year's worth of free ice cream! I just hope their batches aren't too small though because I really want some more of their Pineapple Upside Down Cake ice cream ASAP!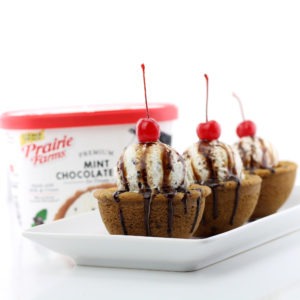 Chocolate Chip Cookie Bowls Recipe
Nick @ DudeFoods.com
Why eat your ice cream out of regular boring bowls when you can eat them out of chocolate chip cookie bowls!
Ingredients
Your favorite flavor of Prairie Farms Premium Small Batch Ice Cream

1/2

cup

butter

1/2

cup

white sugar

1/2

cup

brown sugar

1

teaspoon

vanilla extract

1

egg

1 1/2

cups

flour

1/2

teaspoon

baking soda

1/2

teaspoon

salt

1

cup

chocolate chips

Your preferred ice cream toppings (I went with chocolate syrup and cherries)
Instructions
Preheat over to 350°F.

Combine butter, white and brown sugar and vanilla extract in a bowl. Beat in the egg and then add flour, baking soda, salt and chocolate chips.

Separate chocolate chip cookie dough into 6 equal-sized portions.

Spray Bake-a-Bowl pan with non-stick cooking spray and fill the bottom of each cavity with cookie dough up to the fill line.

Add the top piece to the pan and bake for 20 minutes or until a toothpick inserted into the cookie bowls comes out clean.

Remove Bake-a-Bowl Pan from oven and let cool for at least 10 minutes.

Remove cookie bowls from the Bake-a-Bowl Pan. If they don't come out easily enough trace around them with a knife to loosen them.

Fill cookie bowls with a scoop of your favorite Prairie Farms Premium Small Batch Ice Cream and top with your choice of ice cream toppings.