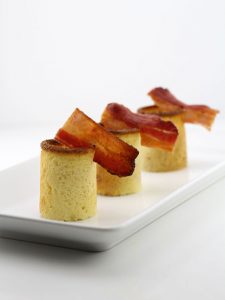 Like I mentioned with my Corn Dog Doughnuts, usually when something has already been done I'll shy away from writing about it here on DudeFoods, but this was another idea that was just way too great to pass up.
Plus, like the brand new doughnut pan that was just sitting in my kitchen cabinet I also had a silicone shot glass mold that I bought a while back that was still begging to be used for the first time.
I first heard about the idea of Pancake Shot Glasses while I was sitting at work listening to the Scoring Position podcast. Co-hosts Alyssa and Amanda were talking about a brunch they hosted where Amanda made Pancake Shot Glasses and then filled them with syrup.
A couple thoughts came to mind when I heard this. The first was that the next time I'm in NYC I definitely need to grab brunch with Alyssa and Amanda and the second was that I needed to make Pancake Shot Glasses for myself! Well, I finally got around to it and I'm happy to report that they're just as amazing as I expected!
To make them you'll need a shot glass mold similar to this one
, but aside from that they're super simple as you basically just need to fill the mold with pancake batter and throw it in your oven for 20 minutes. I also garnished mine with bacon slices because no breakfast is complete without bacon.
The other thing that's great about these Pancake Shot Glasses is that after seeing how great they worked I've now got about ten more food-related shot glass ideas I want to try.
Just think about how amazing some corn bread shot glasses filled with pulled pork could be! Or maybe fried chicken shot glasses filled with waffle sticks! The possibilities are endless!
Maple Syrup and Pancake Shot Glasses Recipe
Nick @ DudeFoods.com
This recipe turns your favorite breakfast item into an edible shot glass! You've never seen pancakes and syrup like this before!
Ingredients
2

eggs

1

cup

milk

2 1/2

cups

flour

1

tablespoon

sugar

2

teaspoons

vanilla extract

1/4

cup

vegetable oil

syrup

4

bacon strips
Instructions
Cook bacon strips according to the directions on the package.

Preheat oven to 350°.

Beat eggs in a bowl and stir in milk.

Beat in flour and sugar until smooth. Stir in vanilla extract and fold in oil.

Pour pancake mixture into shot glass mold and wipe off any excess batter.

Bake for 20 minutes or until a toothpick inserted into the pancake shot glasses comes out clean.

Remove shot glass mold from the oven, let cool for a few minutes and with a sharp knife slice off any pancake remnants that baked over the top of the mold so your shot glasses end up with a flat bottom.

Fill each pancake shot glass with syrup and garnish with half a slice of bacon.