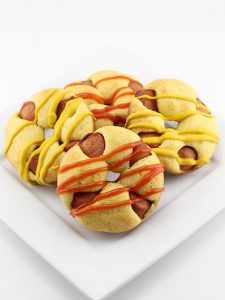 So I recently came up with the idea to make some Corn Dog Doughnuts.
When I Googled it though it turned out that a blog called Easy Toddler Meals had already made them. Yep, I apparently I eat like a toddler. Based on my steady diet of macaroni and cheese, chicken nuggets and peanut butter and jelly sandwiches I guess I already sort of knew that though….
Now, normally if something has been done already I'll just pass on it and try making something new instead, but for some reason my mind kept coming back to those Corn Dog Doughnuts. Plus I bought a doughnut pan
a while back and still haven't gotten around to using it, so I figured that making them would be the perfect way to break it in!
Also, every time I make a corn dog recipe I get comments from people giving me crap for dipping them in ketchup, but you know what? I'm not going to apologize. I'll admit it, I put ketchup on my hot dogs and I dip my corn dogs in ketchup and it tastes great! Ideally I prefer a mixture of mayonnaise and ketchup — which I lovingly refer to as "metchup" — but ketchup on its own is pretty great in my book as well.
Funny story — one time I was down in Chicago to see The Lawrence Arms play a show at the Metro when I drank a ton of whiskey and stumbled to the hot dog place across the street to get some food. I ordered cheese fries and a hot dog with nothing but ketchup on it and the guy behind the register stared at me like I just kicked a puppy or something. Just a look of total disgust on his face because I had the audacity to put ketchup on a hot dog. I'm just going to come out and say it though — Chicago-style hot dogs suck. I'm sorry, but they do.
If you want to cover your hot dog with sport peppers, pickle spears, onions, relish, mustard and celery salt though by all means go for it. It's your food and you should be able to top it with whatever you want. You know what else comes on Chicago-Style hot dogs though? Tomato slices. So tomato slices are cool, but ketchup — which is made from tomatoes — isn't? It makes zero sense.
Anyway, these Corn Dog Doughnuts are great, and if you make them feel free to eat them with whatever condiment you want. Cover them in mayonnaise or ranch dressing for all I care — I'm not gonna tell you how to live your life. You do you and I'm going to keep doing me, ketchup and all….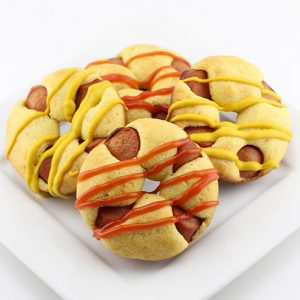 Corn Dog Doughnuts Recipe
Nick @ DudeFoods.com
This recipe for Corn Dog Doughnuts is perfect for kids and adults alike!
Ingredients
1

cup

cornmeal

1

cup

flour

1/4

cup

sugar

1/4

teaspoon

salt

1/8

teaspoon

pepper

4

teaspoons

baking powder

1

egg

1

cup

milk

4

hot dogs

Ketchup, mustard or your preferred corn dog accompaniment
Instructions
In a bowl, combine cornmeal, flour, sugar, salt, pepper and baking powder. Stir in eggs and milk.

Slice each hot dog into six equal sized pieces.

Pour corn dog mixture into doughnut pan and place four hot dog pieces in each doughnut pan cavity.

Bake in your oven for 17 minutes at 375°F. or until a toothpick inserted into the doughnuts comes out clean.

Let cool, remove from pan and drizzle with ketchup, mustard or your preferred corn dog accompaniment.