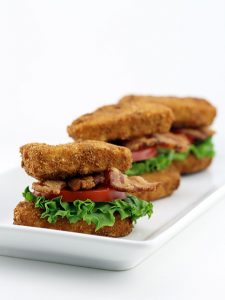 For the third year in a row now I'm working with Smithfield to create recipes using their various pork products.
In case you've missed any of my previous posts you can click here to check out all the different dishes I've come up with thus far.
Last month I made use of their Boneless Pork Shoulder Seasoned Carnitas to create some pretty great Breakfast Tortas, and this month they shipped me one of their Applewood Smoked Bacon Marinated Fresh Pork Loin Filets, which I decided to combine with a package of their bacon to create the amazing sandwiches you see pictured before you.
Ever since I first tried KFC's Double Down sandwich I've been a firm believer that breaded and deep fried meat should be used in lieu of a bun whenever possible, which is where the inspiration for these Deep Fried Pork Loin BLT Sandwiches came from.
The process to make them is pretty simple — just slice up a Smithfield Applewood Smoked Bacon Marinated Fresh Pork Loin Filet, bread and deep fry the individual pieces and then combine them with bacon, lettuce and tomato.
What makes it even better is that Smithfield basically does all the prep work for you since the meat comes seasoned and marinated so no matter what you decide to make you can have dinner on the table in about 30 minutes or less.
Have you got a great tip on how you get your dinner ready in 30 minutes or less using Smithfield Marinated Fresh Pork? Then you're going to want to enter their Real Flavor, Real Fast Contest for a chance to win a trip to Wine Country — including roundtrip airfare for two to San Francisco, two nigh premium hotel accommodation in Napa Valley, two VIP passes for tours and tastings at two premium Napa wineries, lunch for two on the Napa Valley wine train, a $500 dining credit and a $300 transportation credit — or one of hundreds of other great prizes! Even if you don't have a tip or trick of your own you can still vote for your favorite for a chance to win a $25 Visa gift card!
Or, if you're looking for another way to use one of Smithfield's Applewood Smoked Bacon Marinated Fresh Pork Loin Filets check out their recipe for Smoked Bacon and Pork Alfredo. Plus, you can always head over to the recipes section of Smithfield.com where you're pretty much guaranteed to find something you like!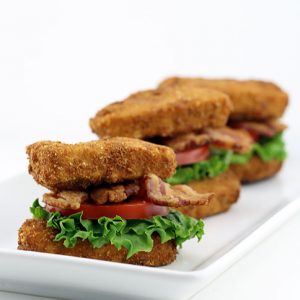 Deep Fried Pork Loin BLT Sandwiches Recipe
Nick @ DudeFoods.com
The traditional BLT just got upgraded by adding breaded and deep fried slices of pork loin for the bun!
Ingredients
1

Smithfield Applewood Smoked Bacon Marinated Fresh Pork Loin Filet

1

package

Smithfield Thick Cut Bacon

2

quarts

oil

for frying

1

cup

flour

1/2

teaspoon

ground black pepper

1/2

teaspoon

onion powder

1/2

teaspoon

garlic powder

3

eggs

1/2

cup

milk

3

cups

breadcrumbs

2

tomatoes

1

head of lettuce

mayonnaise
Instructions
Cook bacon according to the directions on the package.

Heat oil in deep fryer or heavy skillet to 375°F.

Cut Smithfield Applewood Smoked Bacon Marinated Fresh Pork Loin Filet into 14 equal-sized pieces that are approximately 3/4″ thick each.

Set up a dredging station with three bowls — flour, ground black pepper, onion powder and garlic powder in the first one, beaten eggs and milk in the second one and breadcrumbs in the third one.

Coat each pork loin piece in the flour and spice mix, submerge in egg wash and cover in breadcrumbs.

Fry in batches for 3 minutes per side or until a meat thermometer inserted into the pork loin filet reads 145°.

Use the breaded pork loin pieces as buns to create sandwiches by spreading mayonnaise on the bottom buns and topping them with lettuce, tomato slices and bacon.