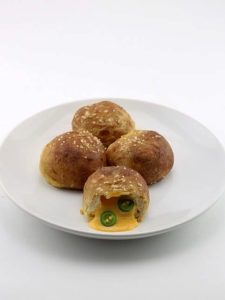 The second I finished my Macaroni and Cheese Stuffed Soft Pretzel Balls I was already trying to think of other foods that would benefit from a soft pretzel breading. One of the first things I came up with was nacho cheese.
Sure, dipping soft pretzels in nacho cheese is amazing, but what if you could create bite-sized soft pretzel balls that already had the cheese right inside of them? Well, here's how to do it!
I started by thawing out some frozen dinner rolls on a sprayed baking sheet on my kitchen counter for two hours. While I was waiting for those I spooned a jar of nacho cheese into an ice cube tray and put it in my freezer. I was originally going to add bacon to these as well, but since I have absolutely zero self control I ended up eating the entire pound of it that I made before there was any left to mix in with the nacho cheese. On the plus side, I had a jalapeño left from my taco dinner the night before, so I sliced that up and added jalapeño slices in lieu of bacon.
Once the dinner rolls were thawed I took them one by one and flattened them out with a rolling pin and then wrapped dough around each of the frozen nacho cheese balls. Each ball then needs to be submerged in boiling water that you've added a tablespoon of baking soda to for 60 seconds, as this is what will give them their pretzel dough coloring and taste later on.
The final step is to dry them on a rack for a few minutes, sprinkle pretzel salt on top of them and then bake them in your oven at 375° for 15 – 20 minutes or until they're golden brown.
When I made my Macaroni and Cheese Stuffed Soft Pretzel Balls I also brushed them with melted butter for the final few minutes in the oven, which I didn't do with these and as you can tell from the photos the coloring is a little different, but it definitely didn't affect the taste because these Nacho Cheese and Jalapeño Stuffed Soft Pretzel Balls were amazing!
If you do try to make your own though make sure that you put them into your oven with the seams of dough facing up instead of down. I learned the hard — and messy — way that if you don't do this the cheese will leak out all over the place as they're baking. In retrospect it probably would have been easier just using a cheese that came in a block that I could have cubed vs. buying a jar of nacho cheese, freezing it and then wrapping that in the dough, but there's just something about that overly processed nacho cheese that just goes perfect with soft pretzels!