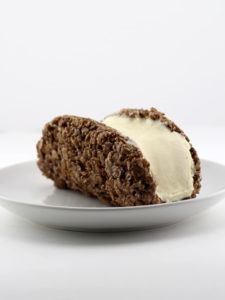 Shortly after making my Fruity Pebbles Ice Cream Cone I received an email from Post Foods — the company that makes Fruity Pebbles — asking for my address so they could send me some Fruity Pebbles swag and some more cereal.
One of the boxes of cereal they sent was Cocoa Pebbles, and seeing as how I got a few responses from people after the Fruity Pebbles Ice Cream Cone saying things like "This would have been way better with Cocoa Pebbles!" I knew I had to use them to make something for my blog. Another ice cream cone seemed too easy though so instead I decided to make a Cocoa Pebbles Ice Cream Taco!
The instructions are pretty much the same as they were with the ice cream cone. I melted three tablespoons of butter in a saucepan over medium heat and then added ten ounces of marshmallows and stirred them until they were melted. I then removed the pan from the heat, stirred in six cups of Cocoa Pebbles, spread the mixture out between two pieces of wax paper and then flattened it out with a rolling pin.
After letting it cool for about 15 minutes I used a 6″ springform pan to punch out a circle of Cocoa Pebbles, which I then placed on top of a taco shell so that by the time it was finished cooling I was left with a perfectly shaped Cocoa Pebbles taco shell. After that I just removed the original taco shell, filled the new one with ice cream and it was ready to eat!
There are about a million different ways I could have made the Cocoa Pebbles Ice Cream Taco even better, like adding chocolate chips or even more Cocoa Pebbles to the top of the taco, but even as is it was pretty amazing.
An even bigger plus is that since the shell is essentially made out of a Cocoa Pebbles version of Rice Krispies Treats it doesn't break apart like a regular ice cream cone does as you bite into it. I assumed that this would be super, super messy to eat, but it wasn't at all. I guess I could also attribute that to the fact that it was so good that I finished it in about a minute too though.
On a related note, if cereal isn't your thing you could always just make a Bacon Weave Choco Taco instead. In fact, I think maybe next time I'll combine the two and have one shell made out of Cocoa Pebbles or Fruity Pebbles and one made from a bacon weave, with a bonus layer of ice cream between them, and then a completely different ice cream flavor in the middle. It could be sort of like a souped up dessert version of Taco Bell's Cheesy Gordita Crunch.