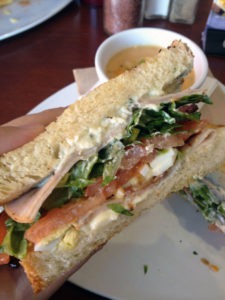 Seeing as how I've eaten at Metlhouse Bistro a few times now I figured that it would probably be a good time to finally write a blog post about the restaurant and their "handcrafted, gourmet grilled cheese sandwiches."
I just want to start off by saying that I absolutely love the sandwiches at Melthouse Bistro. They have some of my favorite sandwiches in the city of Milwaukee, but I wouldn't really consider most of them to be grilled cheese sandwiches. Take their Biloxi sandwich for instance which features pulled pork, coleslaw, pickles and Fontina cheese. It's a great sandwich, I've eaten it and I absolutely loved it (minus the pickles), but I'd consider it a pulled pork sandwich, not a grilled cheese.
On my most recent visit to the restaurant (which you can see pictures of down below) I had the Maliblue, which is a sandwich consisting of smoked turkey breast, bacon, avocado slices, tomato, romaine lettuce, hard broiled egg crumbles, blue cheese and roasted garlic mayonnaise served between two slices of French bread. Again, totally delicious, but not exactly what I'd consider a grilled cheese sandwich.
Long story short, the sandwiches at Melthouse Bistro are amazing, the beer cheese soup (which you can also see pictured below) is perfect, and I definitely appreciate that they use so many different varieties of Wisconsin cheese, but, and I mean this in the nicest way possible, I think that they're selling themselves short by referring to themselves as a grilled cheese restaurant because to me they're so much more than that.