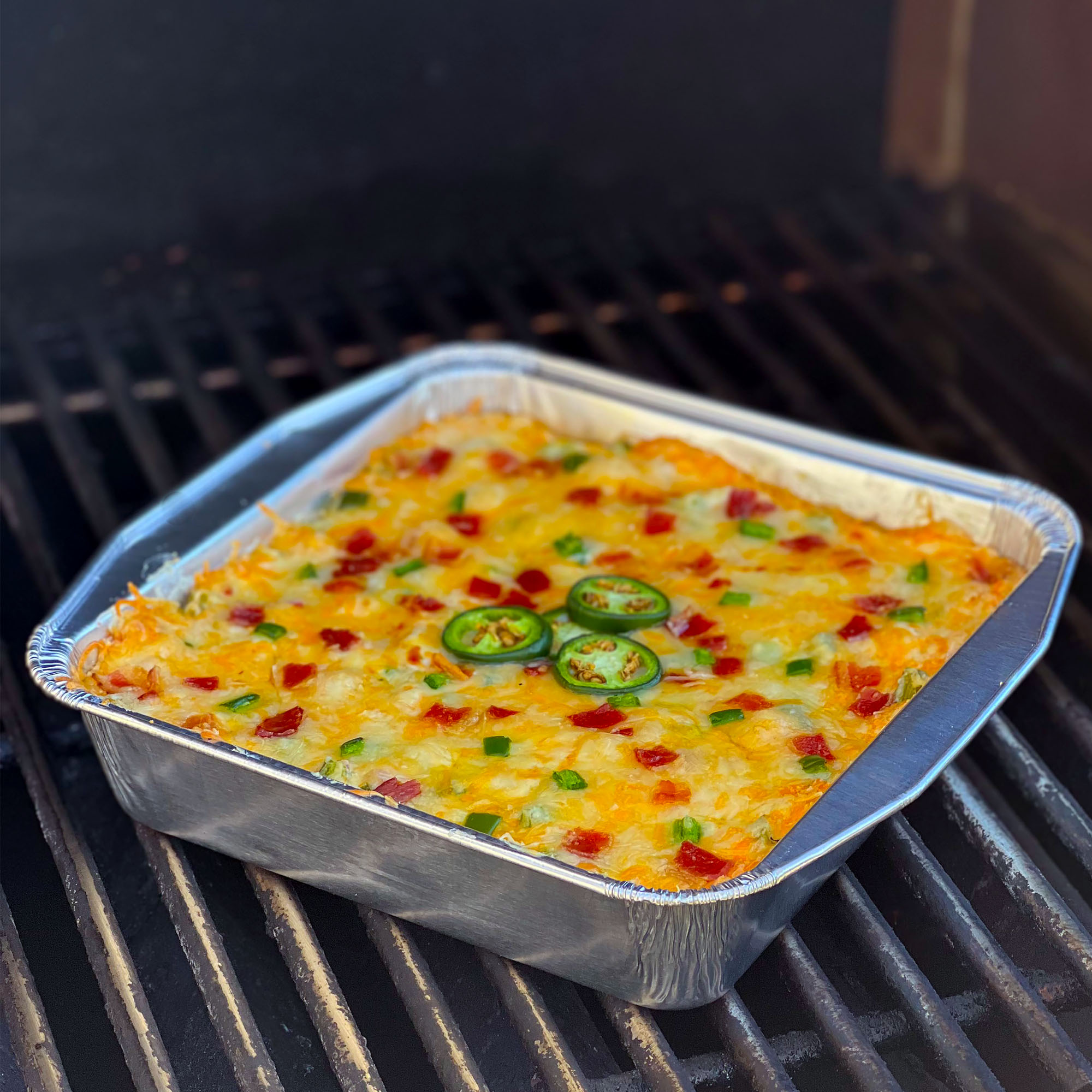 Here in Wisconsin tailgating is a year round event. It doesn't matter if it's 10° outside or if there's snow on the ground. If there's an excuse to stand around a grill we'll take it!
Every good tailgate needs a good appetizer to go along with the burgers and hot dogs though, and this Jalapeño Popper Dip is one of my favorites!
I've seen recipes for Jalapeño Popper Dip that call for a bunch of different spices in addition to the cheese and jalapeños, but this one is nice and simple with just cream cheese, Cheddar, Mexican cheese blend, diced jalapeños, bacon — because bacon makes everything better — mayonnaise and some El Yucateco Jalapeño Hot Sauce, which gives the dip a ton of extra flavor!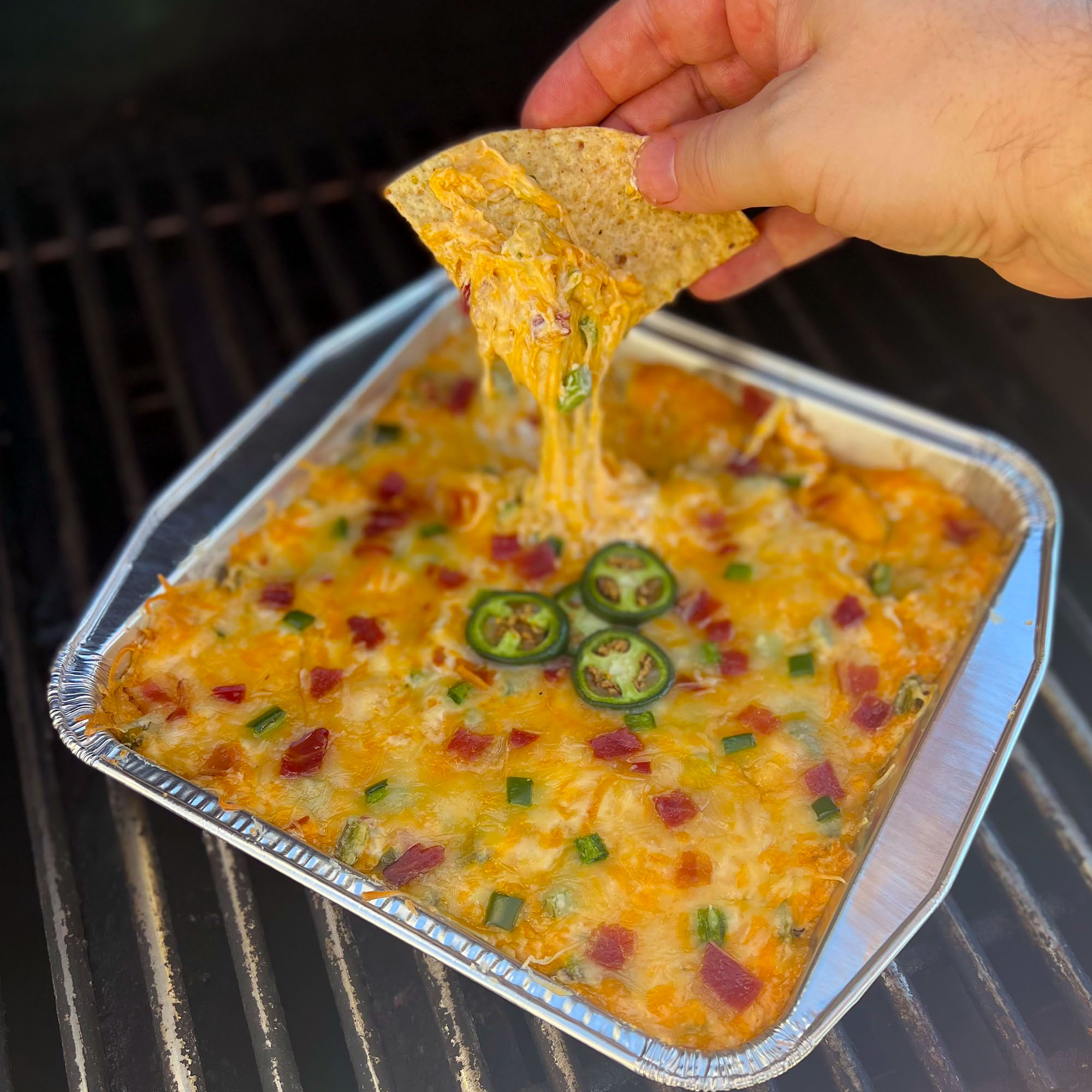 If you're making this at home a cast iron pan or any kind of oven safe dish works great, but if you're planning on taking it to a tailgate a disposable aluminum grill pan works perfectly. The pan I used to make my Jalapeño Popper Dip measured 8″ x 8″ and was 2″ deep and it was the perfect size for the recipe below.
You can also prep the dip a day or so in advance and just top the dish with aluminum foil and keep it in your refrigerator until you're ready to heat it up. Then, just take it to your tailgate, throw it on the grill for 30 minutes and serve it with chips or vegetables for dipping purposes. It even makes a great burger topping!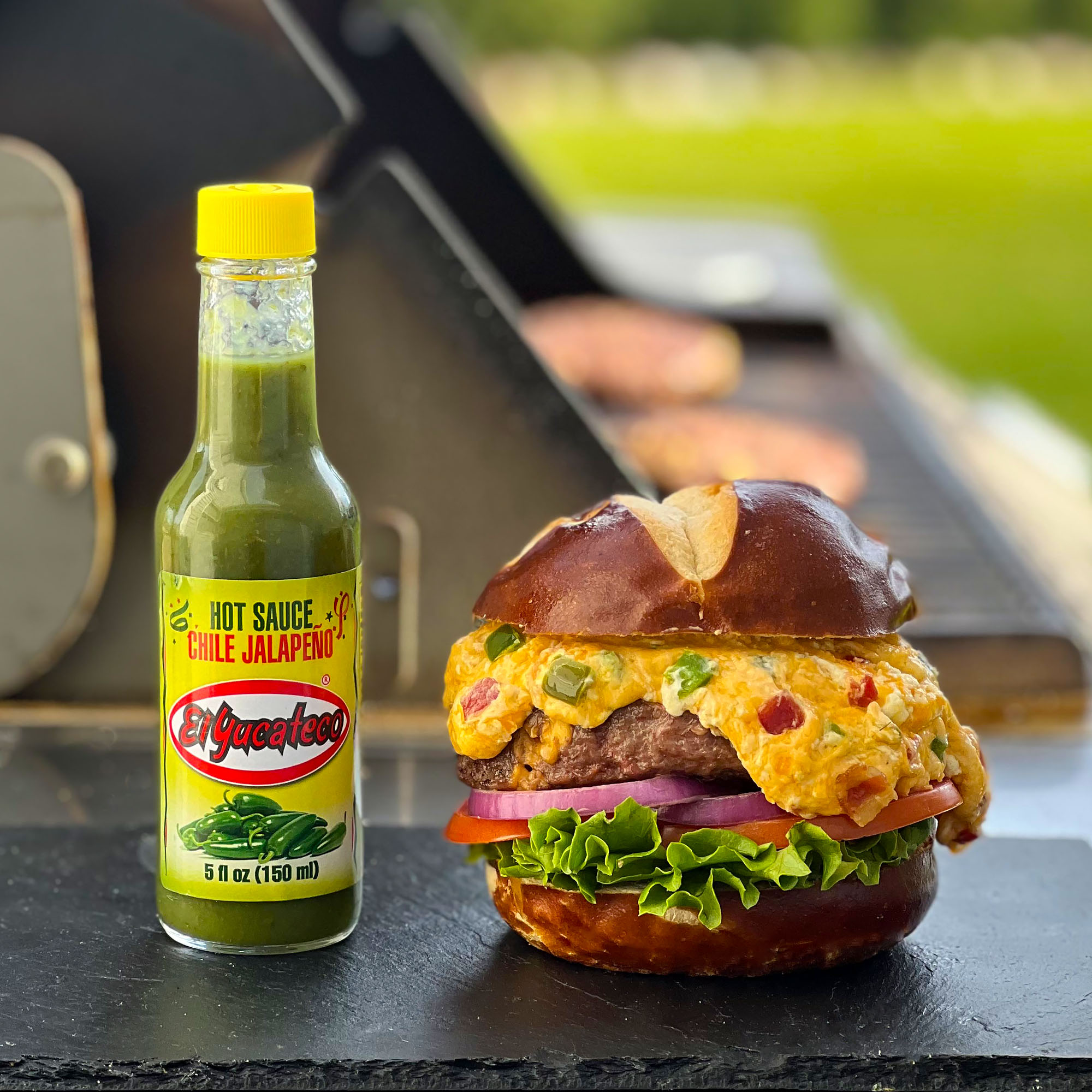 I've also seen tons of Jalapeño Popper Dip recipes where the dip is topped with breadcrumbs. If you wanna top yours with breadcrumbs then by all means go for it, but I've just never been a huge fan of breadcrumbs as toppings whether it be on dips, macaroni and cheese or anything else.
When it comes to the level of heat in this dish the amount of jalapeños and El Yucateco Jalapeño Hot Sauce that I used kept things fairly tame, which was perfect for me, but if you enjoy a little more kick you could definitely add more of each. You could even substitute one of their six other amazing hot sauces.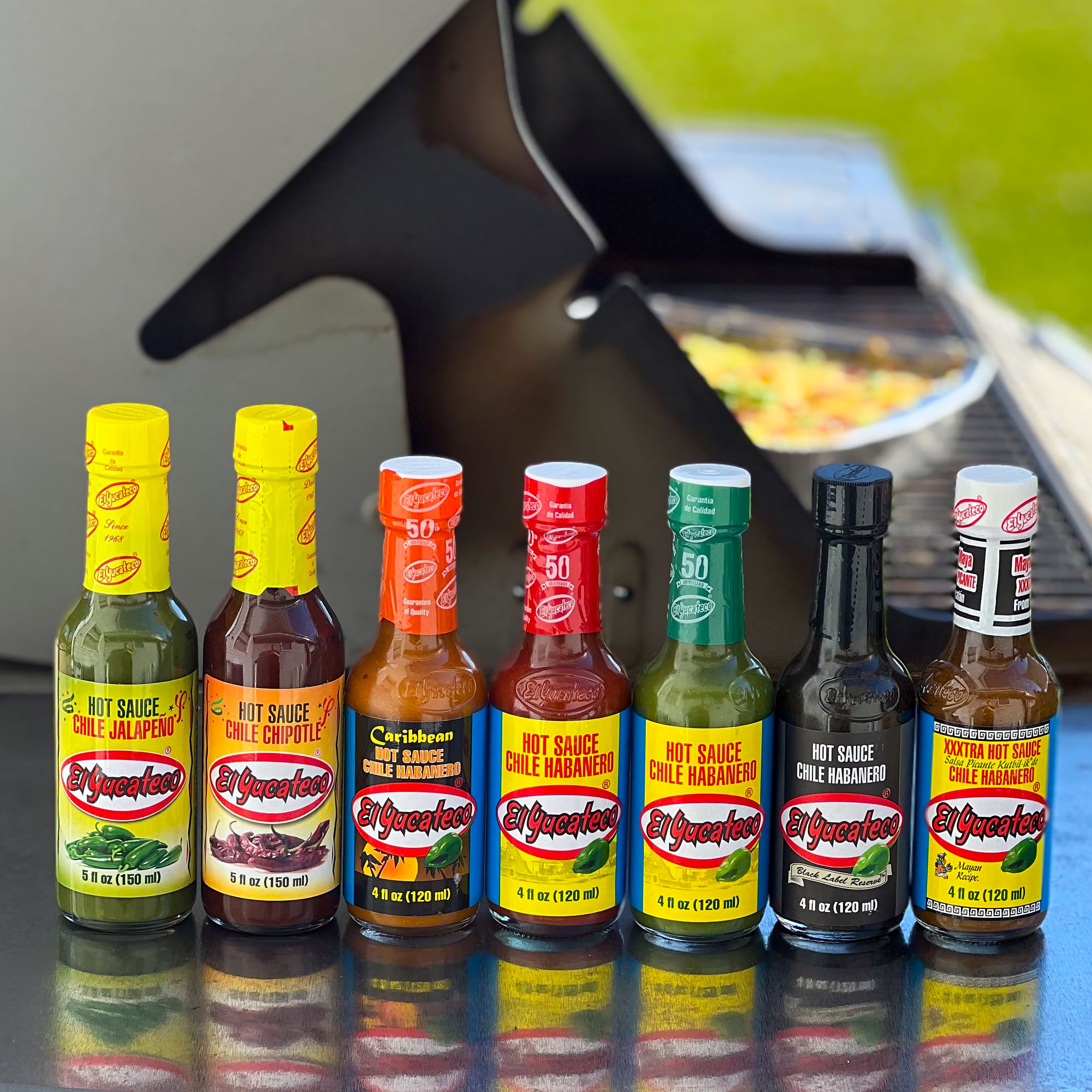 Using their Jalapeño Hot Sauce only seemed appropriate since I was making Jalapeño Popper Dip, but that's actually El Yucateco's mildest offering clocking in at a Scoville Range — which measures the heat level in chili peppers — of between 1,500 and 1,900. The most flavorful? Their Kutbil-Ik XXXtra Hot Habanero Sauce, which measures between 10,000 and 12,500 Scoville Heat Units. And then of course they offer plenty of sauces between those two ranges as well. They've pretty much got a hot sauce for everyone!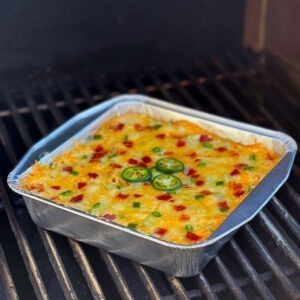 Jalapeño Popper Dip Recipe
Nick @ DudeFoods.com
This Jalapeño Popper Dip is the perfect game day appetizer! It's perfect with chips, veggies or even as a burger topping!
Ingredients
16

ounces

cream cheese

softened

16

ounces

Cheddar cheese

shredded

8

ounces

Mexican cheese blend

shredded

4

tablespoons

El Yucateco Jalapeño Hot Sauce

3

jalapeños

deseeded and diced

1

pound

bacon

fried and diced

1/3

cup

mayonnaise
Instructions
Heat up your grill for indirect cooking and bring the temperature to 350°F.

In a large bowl combine the cream cheese, Cheddar cheese, Mexican cheese blend, El Yucateco Jalapeño Hot Sauce, jalapeños, bacon and mayonnaise and mix everything together until evenly combined.

Transfer mixture to a grill safe dish or pan and place on the grill. I used an aluminum grill pan that was 8" x 8" and 2" deep and it was the perfect size for this recipe.

Heat for 30 minutes or until the cheese starts to bubble.

Remove, let cool for at least 5 minutes and serve with chips, vegetables or you can even use it as a burger topping like I did!