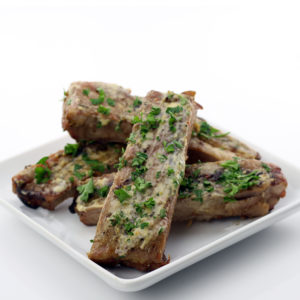 For the past four years I've been working with Smithfield to create recipes using their various pork products. In case you've missed them you can click here to check out all the different dishes I've come up with thus far. Well, I'm super psyched to report that they've invited me back for a fifth year!
I spent all last year highlighting the versatility of their Marinated Fresh Pork products my making things like Pulled Pork and Macaroni and Cheese Egg Rolls and Pork Teriyaki in Edible Noodle Bowls and this year leading up to a few different NASCAR races I'll be sharing recipes that feature Smithfield's high-quality, hand-trimmed ribs.
If you follow me on Instagram at all and ever watch any of my Instagram Stories you're probably more than aware of how often I eat garlic parmesan chicken wings, so when it came time for me to think of a recipe using Smithfield's Extra Tender St. Louis Style Spareribs — which you can find at your local Walmart — I decided to test out how well that same garlic parmesan sauce that I love so much with chicken would work on ribs. Well, long story short, it tasted amazing with ribs!
For some reason a lot of the garlic parmesan sauce recipes out there have vinegar in them, which I've never been a fan of because it gives the sauce a little bit of an acidic taste. The recipe I used with these ribs ditches the vinegar completely and just uses garlic, shredded parmesan, mayonnaise, a little bit of milk and lemon juice, salt, pepper and a few spices. I made the sauce a little thicker than I normally would if I was using it for chicken wings just because I brushed it onto the ribs while they were still on the grill, but if you don't want your sauce quite so thick just add an extra tablespoon of milk and you'l be all good.
Tomorrow, April 13th is the Toyota Owners 400 at Richmond Raceway in Richmond, Virginia so whether you're heading to the track to tailgate and cheer on Smithfield sponsored driver Aric Almirola or watching the race from home these Garlic Parmesan St. Louis Style Pork Spareribs are the perfect race day meal!
Smithfield is also teaming up with Walmart to encourage backyard barbecuers to get grilling all summer long with the Smithfield Get Grilling Sweepstakes. Between now and September 2nd you can visit this link daily to complete the entry form and take a brief quiz to see if you're #TeamFast like Aric Almirola or #TeamSlow like barbecue expert Tuffy Stone. Two grand prize winners — one from #TeamSlow and one from #TeamFast — will each receive a $500 Walmart gift card and 50 first prize winners will receive a $50 Walmart gift card!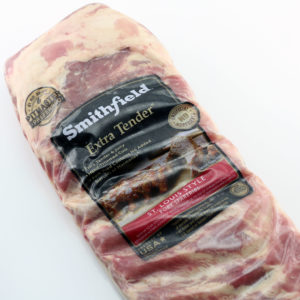 Garlic Parmesan St. Louis Style Pork Spareribs Recipe
Nick @ DudeFoods.com
Do you enjoy both garlic parmesan chicken wings and ribs? Then you need to grill up a rack of these garlic parmesan ribs!
Ingredients
1

rack

rSmithfield Extra Tender St. Louis Style Pork Spareribs

5

cloves

garlic

3

tablespoons

olive oil

1/2

cup

mayonnaise

1/2

cup

Parmesan cheese

finely grated

1

tablespoon

milk

1

tablespoon

lemon juice

1/2

teaspoon

red pepper flakes

1/4

teaspoon

thyme

1/4

teaspoon

oregano

1/4

teaspoon

basil

1/4

teaspoon

ground pepper

1/4

teaspoon

salt
Instructions
Heat a charcoal or gas grill to medium-low, about 300°F.

Brush ribs with olive oil and grill for 45 minutes per side or until tender.

Wrap the garlic and 1 tablespoon olive oil loosely in aluminum foil and grill for 45 minutes or until garlic is soft and lightly browned.

Mash the garlic with a fork and combine in a bowl with all the remaining ingredients.

Once your ribs are tender brush them with half the sauce and continue grilling until the sauce is cooked on.

Remove ribs from the grill, let stand for 10 minutes and brush them with the remaining sauce.