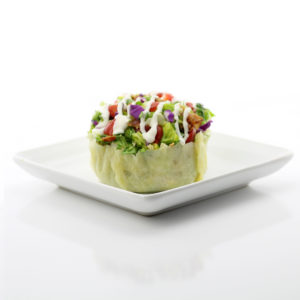 Hey! I actually made something healthy for once!
Although, I guess that a salad containing egg, bacon, avocado and a generous amount of ranch dressing served in a bowl made entirely out of Parmesan cheese isn't technically healthy, but in my deep fried, bacon wrapped world this is basically the equivalent of eating a giant pile of kale.
To create the Parmesan cheese bowl I used a Folios Cheese Wrap, which is a product I've been hooked on ever since I discovered them at the grocery store a few months back. For $5.49 you get a package of four cheese wraps and they're available in three different flavors — Cheddar, Jarlsberg and Parmesan. Sorry if this sounds too much like a sponsored post — because it isn't — I just really dig these things.
Anyway, all I did was take one of the Parmesan wraps, microwave it for 60 seconds on a piece of parchment paper and then flip it on top of an upside down bowl. A minute or so later I had a Parmesan cheese bowl that I packed with lettuce, tomatoes, bacon, egg, avocado and blue cheese crumbles!
If you can't find the cheese wraps anywhere you could accomplish the same thing by melting some cheese in a pan, using a spatula to transfer it to a piece of parchment paper and then forming it around the bowl, but these wraps make it so much easier.
Aside from making cheese bowls though these wraps are a pretty great substitute for taco shells as well. I've even used them a couple times in lieu of a pita when making gyros. Now if you'll please excuse me I need to go wrap a bunch of stuff in bacon so I can deep fry it! I'm sick of eating healthy!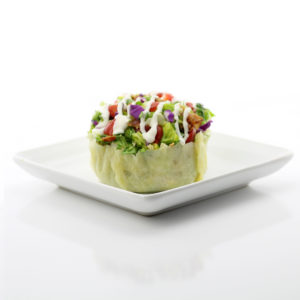 Cobb Salad in a Parmesan Cheese Bowl Recipe
Nick @ DudeFoods.com
Looking for a totally unique way to enjoy your Cobb salad? Why not eat it out of an edible Parmesan cheese bowl?!
Ingredients
1

Folios Parmesan Cheese Wrap

4

cherry tomatoes

diced

2

cups

lettuce

diced

2

slices

bacon

diced

2

medium chicken strips

diced

1

hard boiled egg

diced

1/2

avocado

diced

1/4

cup

blue cheese crumbles

Ranch or your preferred dressing
Instructions
Take one Folios Parmesan Cheese Wrap, place it on a piece of parchment paper and microwave it for 1 minute.

Flip the cheese over an upside down bowl immediately after removing it from the microwave, form it around the bowl and remove the parchment paper.

Add lettuce, tomatoes, bacon, chicken, egg, avocado and cheese to a bowl and shake to combine.

Transfer salad to Parmesan cheese bowl and top with your choice of dressing.