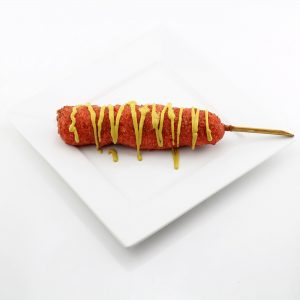 I mentioned when I made my Flamin' Hot Cheetos Breaded Jalapeño Poppers that I was recently forced — due to a sale that was way too good to pass up — to purchase ten bags of Flamin' Hot Cheetos.
With so many bags of Cheetos sitting around I basically have two options. The first is to hang out on my couch munching on them while I watch Netflix and then inevitably get yelled at by my wife for getting Cheetos crumbs all over the living room.
The second is to keep using them for ridiculous DudeFoods recipes where I'll most likely make an even bigger mess in the kitchen and also get yelled at. So far I've gone exclusively with option two….
To make these Flamin' Hot Cheetos Corn Dogs I took the same standard corn dog batter recipe that I always use and just swapped out the flour for finely blended Flamin' Hot Cheetos.
I also added a little bit of red food coloring because the first time I tried making these the mixture of yellow cornmeal and red Flamin' Hot Cheetos created a lovely brown color that after being deep fried sort of just looked like a turd on a stick — a quite delicious turd mind you, but a turd nonetheless….
Also, to all of you out there who give me crap every time I put ketchup on the corn dogs I make you'll be happy to see that I used mustard this time. I'll be honest though, it was for purely aesthetic reasons. I tried topping one of my Flamin' Hot Cheetos Corn Dogs in ketchup and it just didn't look as cool as the one with mustard drizzled on it. I still am and always will be a ketchup on my hot dog guy.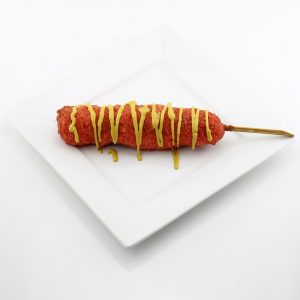 Flamin' Hot Cheetos Corn Dogs Recipe
Nick @ DudeFoods.com
Looking for a way to step up your corn dog game? Try this recipe for Flamin' Hot Cheetos Corn Dogs!
Ingredients
2

quarts

oil

for frying

4

corn dog sticks

or chopsticks if you can't find corn dog sticks

4

hot dogs

1

cup

cornmeal

1

cup

Flamin' Hot Cheetos

finely crushed

¼

cup

sugar

¼

teaspoon

salt

⅛

teaspoon

pepper

4

teaspoons

baking powder

2

eggs

1

cup

milk

1

tablespoon

red food coloring

mustard or your preferred corn dog accompaniment
Instructions
Heat oil in deep fryer or heavy skillet to 375°F.

In a bowl, combine cornmeal, finely crushed Flamin' Hot Cheetos, sugar, salt, pepper and baking powder. Stir in eggs, milk and food coloring.

Take corn dog sticks and slide one hot dog onto each one.

Transfer corn dog batter to a tall glass and dip the corn dogs one by one into the batter.

Fry corn dogs in batches for 4 minutes or until golden brown.

Drain on paper towels and serve with mustard or your preferred corn dog accompaniment.