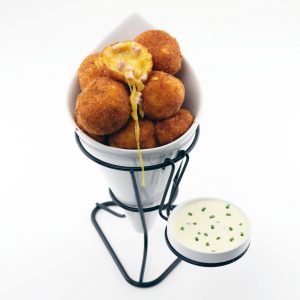 I've deep fried plenty of cheese in my day, but for some reason I've never deep fried ham and cheese together. Well, that all changed this past weekend when Dietz & Watson sent me a huge package of their various meats, cheeses and sausages.
The cheese selection they hooked me up with was amazing — everything from Buffalo Wing Cheddar to Habanero and Jalapeño Cheddar to Bacon & Horseradish Cheddar.
For as anxious I was to try all those different varieties of Cheddar, I decided to go with Dietz & Watson's Mild Yellow Cheddar for these Deep Fried Ham & Cheese Balls because if you can't make a good classic Cheddar you have no business expanding into flavored Cheddars. Luckily Dietz & Watson's Cheddar is phenomenal, and this is coming from someone who was born and raised in Wisconsin where cheese is pretty much a necessary part of any meal.
Much like their cheese Dietz & Watson's ham is also top-notch. It's hand trimmed from premium North American pork, and their Originals Line contains no antibiotics ever and their Originals Ham is nitrate and nitrite free. Combined with their Mild Yellow Cheddar it made for quite the delicious little snack.
When it came to the breading on these Deep Fried Ham & Cheese Balls I wanted to keep it as thin as possible so it didn't distract from the meat and cheese, so while I normally use panko breadcrumbs to coat the many, many things I deep fry on a weekly basis I just stuck with a super thin coating of regular breadcrumbs this time around. I even got my wife — who normally never eats ham — to try them and according to her they were "Pretty damn good!"
If you want to try these Deep Fried Ham & Cheese Balls for yourself the recipe is below. In addition, if you live in Milwaukee like I do you should join me at Metro Market at 1123 N. Van Buren St. on Thursday July 12th from 5:30pm – 8pm where you'll be able to sample small plate recipes developed by Dietz & Watson corporate chef Michelle Garde. Oh, and if that isn't enough there will also be wine and beer tastings from local craft breweries, so come on out!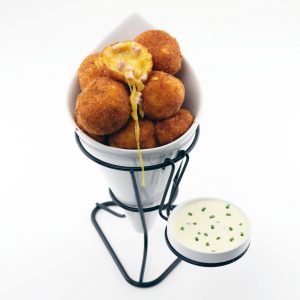 Deep Fried Ham & Cheese Balls Recipe
Nick @ DudeFoods.com
If you love ham and cheese then you need to try these Deep Fried Ham & Cheese Balls!
Ingredients
8

ounces

Cheddar cheese

shredded

4

ounces

ham

diced

3

tablespoons

flour

3

eggs

1

cup

breadcrumbs

2

quarts

oil

for frying

Ranch or your preferred dipping sauce
Instructions
Combine shredded Cheddar, diced ham, flour and eggs into a bowl and mix thoroughly.

Roll into golf ball-sized balls and then coat in breadcrumbs.

Refrigerate for at least 30 minutes.

Heat oil in deep fryer or heavy skillet to 375°F.

Fry ham & cheese balls for 2 minutes or until golden brown.

Drain on paper towels and serve with ranch or your preferred dipping sauce.