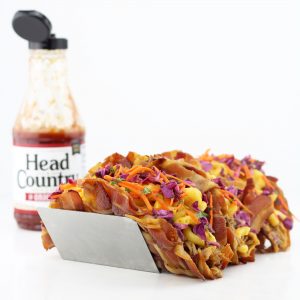 This is my third time creating a recipe using Head Country Bar-B-Q sauce and seasoning and honestly, the first two turned out so amazing that I was a little worried I wouldn't be able to top them.
It started last summer when I made Pulled Pork and Cornbread Shooters, which I then followed up earlier this year with Pulled Pork Corn Dogs.
For my third recipe I decided to take pork and combine it with even more pork by making bacon weave taco shells and filling them with pulled pork.
As awesome as the pulled pork would have been on its own I knew that I wanted to add something else to the tacos as well, but couldn't decide between macaroni and cheese or coleslaw since they both pair so well with pulled pork. Finally I just decided to add both, so it's basically an entire meal right inside your taco!
When it came to the coleslaw I also debated over which type of slaw I wanted to make, and I finally decided on a sweet and tangy red cabbage slaw with cabbage, carrots, cilantro, brown sugar, lime juice and orange juice. If you've got a go-to coleslaw recipe that you love though you can obviously use that one instead.
The other great thing about this recipe is that aside from the bacon weave taco shells you can put as much or as little effort into it as you want. If you want to use boxed macaroni and cheese go for it. Feel like using bagged coleslaw from the grocery store instead of making your own? No problem!
Making the bacon weave taco shells is a little tricky, but once you get the hang of it you can knock them out pretty quickly. The trick is to weave the bacon together into a square and bake it in your oven right up until the point where it's almost done cooking, yet still able to be cut into a circle and hung over two kabob sticks to ensure that it finishes off the cooking process while keeping its taco shell shape.
Obviously cooking times will vary based on the thickness of bacon you use, but I've included a guideline in the recipe below for you to follow. Plus, if you mess one of them up and the shell doesn't turn out all that happens is that you're left with extra bacon to eat, which isn't a bad problem at all!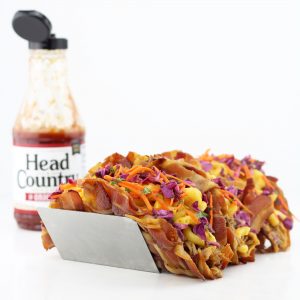 Bacon Weave Tacos With Pulled Pork, Mac & Cheese & Red Cabbage Slaw Recipe
Nick @ DudeFoods.com
This recipe combines pulled pork with homemade macaroni and cheese and red cabbage coleslaw in delicious bacon weave taco shells.
Ingredients
1

pork shoulder

approximately 3 pounds

1

cup

Head Country Bar-B-Q sauce

1

jar

Head Country Bar-B-Q seasoning

72

slices

bacon

8

ounces

pasta

2

tablespoons

butter

1 1/2

tablespoons

flour

1 1/2

cups

milk

3

cups (12 ounces)

Cheddar cheese

shredded

1/4

cup

orange juice

1/8

cup

lime juice

1

tablespoon

brown sugar

1/2

teaspoon

salt

1/2

teaspoon

pepper

1/2

red cabbage

chopped

1

carrot

grated

1/4

cup

cilantro

chopped
Instructions
Season the entire pork shoulder with your choice of Head Country seasoning and place into slow cooker.

Top with 1 cup Head Country sauce of your choice and cook on low for 8 hours or high for 4 hours or until pork shoulder can easily be shredded with a fork.

Shred pork shoulder with a fork and stir to coat with sauce.

Line 6 slices of bacon vertically side by side.

Fold back every other bacon strip and lay a slice of bacon perpendicular to the original 6 strips. Repeat this step until your entire bacon weave is done, alternating which strips go over and which stops go under the original 6 bacon strips. If this sounds confusing at all just watch the video.

Bake the bacon weave in your oven for 15 minutes at 350°.

Remove the bacon weave from the oven, pat down with paper towels to remove excess grease, place an upside down bowl over the bacon weave and trace around the bowl with a knife so you're left with a circular bacon weave.

Hang the bacon weave over 2 chopsticks or kabob sticks, balance the 2 sticks across 2 pint glasses and bake for another 5 minutes or until the bacon is crispy.

Cook pasta according to the directions on the package.

In a separate pot, melt butter over medium heat and stir in 1 1/2 tablespoons flour. Add 1 1/2 cups milk and reduce heat to low. Stir in cheese slowly until melted and pour over cooked pasta.

In a bowl whisk together orange juice, lime juice, brown sugar, salt and pepper.

Add cabbage, carrots and cilantro and toss to combine.

Assemble your tacos by adding pulled pork to each bacon weave shell and then topping it with macaroni and cheese and red cabbage slaw.