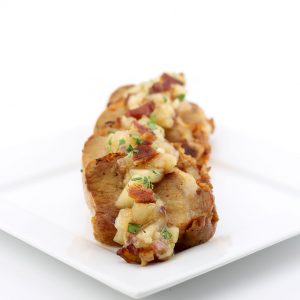 For the past four years I've been working with Smithfield to create recipes using their various pork products. In case you've missed any of my previous posts you can click here to check out all the different dishes I've come up with thus far.
In every single post I've mentioned how since Smithfield's Marinated Fresh Pork comes perfectly seasoned and marinated and all the prep work is done for you all that's really left for you to do is grill it, roast it, throw it in your slow cooker or sauté it.
Since I've stuck with the first three cooking methods for all of my previous Smithfield recipes I decided that for this one I'd sauté the Applewood Smoked Bacon Pork Loin Filet that they sent me. If you'd like to pick one up for yourself you can find it at Roundy's Piggly Wiggly or Walmart.
The great thing about cutting your pork loin into medallions and sautéing them is that rather than the 30 minutes or so it would take to cook if you grilled it or roasted it your dinner can be ready in about ten minutes instead.
Since the pork loin I used was topped with actual bacon, I realized that the one downfall to sautéing it is that some of the bacon falls off into the pan as a result. Never one to waste delicious bacon though I knew that I wanted to use the pieces that fell off for something else, so in keeping with the whole applewood smoked bacon theme I decided to repurpose it into a bacon apple chutney to top my pork loin with.
I know that most apple chutney has onion in it, but I wanted mine to taste more like an apple pie filling, so I ditched the onions and aside from the bacon I just stuck with chopped apples (obviously), apple juice, brown sugar, lemon juice, cinnamon and ginger. All in all my dinner was ready in a little less than 30 minutes, which when you think about it is almost no time at all!
Have you got a great tip on how you get your dinner ready in 30 minutes or less using Smithfield Marinated Fresh Pork? Then you're going to want to enter their Real Flavor, Real Fast Contest for a chance to win a trip to Wine Country — including roundtrip airfare for two to San Francisco, two nigh premium hotel accommodation in Napa Valley, two VIP passes for tours and tastings at two premium Napa wineries, lunch for two on the Napa Valley wine train, a $500 dining credit and a $300 transportation credit — or one of hundreds of other great prizes! Even if you don't have a tip or trick of your own you can still vote for your favorite for a chance to win a $25 Visa gift card!
You also still have until Sunday, September 2nd to nominate the person who inspires you to get grilling for Smithfield's Hero of the Grill Contest. One lucky winner will get $5,000 and the first 10,000 nominees will also have the chance to have their name featured on Aric Almirola's #10 Ford at the Richmond race this September. Good luck!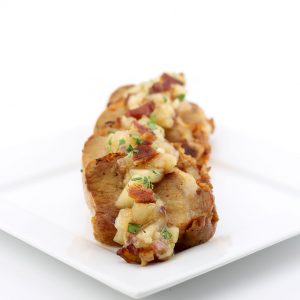 Applewood Smoked Bacon Pork Loin Filet With Bacon Apple Chutney Recipe
Nick @ DudeFoods.com
This Applewood Smoked Bacon Pork Loin Filet is great on its own, but it's even better when you top it with homemade Bacon Apple Chutney!
Ingredients
1

Smithfield Applewood Smoked Bacon Pork Loin Filet

2

apples

peeled and chopped

1/4

cup

apple juice

1/4

cup

brown sugar

1/2

tablespoon

lemon juice

1/4

teaspoon

ground cinnamon

1/4

teaspoon

ground ginger

1

teaspoon

olive oil
Instructions
Add chopped apples, apple juice, brown sugar, lemon juice, cinnamon and ginger to a saucepan, stir to coimbne and heat on high until boiling.

Reduce heat to low, cover and simmer until your pork medallions are finished cooking.

Heat 1 tablespoon of oil in a pan or skillet over medium-high heat.

Slice Smithfield Applewood Smoked Bacon Pork Loin Filet into 1 inch thick medallions and add to pan or skillet.

Cook for approximately 4 minutes per side or until internal temperature reaches 145° for medium rare or 160° for medium.

Transfer pork medallions to a plate and add any bacon that fell off during the cooking process to the saucepan.

Top pork medallions with bacon apple chutney and serve.