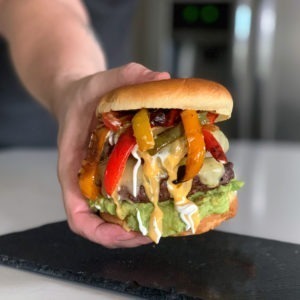 I've owned my Weber Summit grill for about three years now. It was literally the first purchase I made when my wife and I moved into our new house. Seriously, I bought it before we even had any living room furniture….
Due to its size this grill obviously isn't coming to tailgates with me like the Q 1200 gas grill Weber sent me that I used to make Racing Sausages Kebabs and Pizza Stuffed Poblano Peppers, but if you regularly have large groups of people over to your house for cookouts it's absolutely perfect!
I've made everything from ribs to steaks to beer can chicken on my Summit grill, but when my wife and I had some family over for a cookout a couple weeks back I couldn't decide what to grill. Burgers are always a safe bet, but on that particular day I was also craving fajitas so I decided to make fajita burgers!
So, I grilled my burgers, topped them with Pepper Jack cheese and sautéed some bell peppers on my grill's side burner. If you have a grill without a side burner you can also grill your peppers in a grill pan or even on aluminum foil right on the grill along with the burgers.
Then, when the burgers and peppers were done I set up a build-your-own burger area with sour cream, nacho cheese, salsa and homemade guacamole so everyone could decide for themselves what they wanted on their burgers. That way, even if someone just wanted a plain burger with no peppers or toppings aside from ketchup — I'm looking at you mom — that option was available as well.
I thought about using small tortillas or even quesadillas as a burger bun, but with how many toppings I added to my burger and the fact that I made it a double that just wasn't feasible. I might have to give it a try next time though!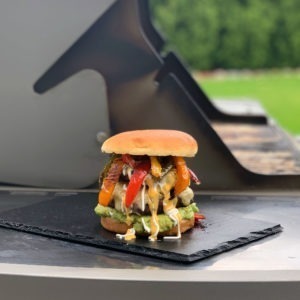 Fajita Burgers Recipe
Nick @ DudeFoods.com
Combine your love of fajitas and burgers in this recipe for fajita burgers!
Ingredients
4

pounds

ground beef

4

bell peppers

2

tablespoons

olive oil

8

slices

cheese

3

avocados

1/4

cup

mayonnaise

2

tablespoons

garlic powder

2

tablespoons

onion powder

8

hamburger buns

Your choice of condiments (I went with sour cream and nacho cheese)
Instructions
Separate ground beef into 8 equal-sized patties and season with freshly ground black pepper and kosher salt.

Slice bell peppers into 1/2" wide strips.

Set the grill — as well as your side burner — to medium heat.

Place a pan on your side burner, add 2 tablespoons of olive oil to it and add the peppers. Grill for 15 minutes, stirring them every few minutes. If you don't have a side burner you can grill them in a grill pan or even on aluminum foil right on your grill along with the burgers.

Grill burgers for 5 minutes per side or until they reach your desired level of doneness. Add cheese for the last minute on the grill. If you want to toast your buns place those on the grill for the final minute as well.

To make the guacamole slice the avocados in half, remove the pits and skin and mash the avocado in a mixing bowl until it reaches your desired consistency. Add mayonnaise, garlic powder, onion powder and stir to combine.

Assemble your burgers by spreading guacamole on the bottom bun, topping with a burger, bell peppers, your choice of condiments (I went with sour cream and nacho cheese) and finally the top bun.