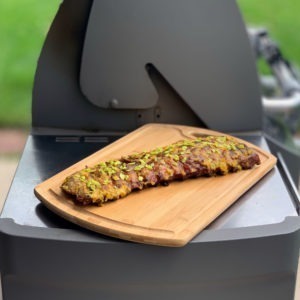 For five years now I've been working with Smithfield to create recipes using their various pork products. In case you've missed any of my previous posts you can click here to check out all the different dishes I've come up with thus far.
This year I've been working exclusively with Smithfield's ribs. Back in April I used their Extra Tender St. Louis Style Spareribs to make Garlic Parmesan ribs and in May I made Tequila Lime ribs with them.
For this post they asked me to come up with a recipe that showcases their Extra Tender Fresh Pork Back Ribs. Seeing as how Smithfield sponsors NASCAR driver Aric Almirola who just so happens to be racing in the Camping World 400 at Chicagoland Speedway this Sunday, June 30th I decided that a Chicago-themed rib recipe was in order!
Now, when I think of Chicago and food two things come to mind — Chicago-style hot dogs and deep dish pizza, and although I do think that pizza-flavored ribs would be amazing I decided to focus on Chicago-style hot dogs for this recipe.
I started off by brushing my Smithfield Extra Tender Fresh Pork Back Ribs with some olive oil and grilling them over medium-low heat for 45 minutes per side. While they were on the grill I whipped up a sauce that included Chicago-style hot dog staples like yellow mustard, diced onion, relish and celery salt.
After brushing my ribs with the sauce and letting it cook on I diced up some sport peppers — another item you'll always find on a Chicago-style hot dog — and sprinkled them over the ribs. Aside from the actual hot dog itself I'm pretty sure that the only thing missing from a Chicago-style hot dog when it came to these ribs were the sliced tomatoes and the pickle spear, and if you really wanted to add those two things you could easily dice them up and add them into the sauce as well. Either way, these ribs turned out great!
Smithfield is also teaming up with Walmart to encourage backyard barbecuers to get grilling all summer long with the Smithfield Get Grilling Sweepstakes. Between now and September 2nd you can visit this link daily to complete the entry form and take a brief quiz to see if you're #TeamFast like Aric Almirola or #TeamSlow like barbecue expert Tuffy Stone. Two grand prize winners — one from #TeamSlow and one from #TeamFast — will each receive a $500 Walmart gift card and 50 first prize winners will receive a $50 Walmart gift card!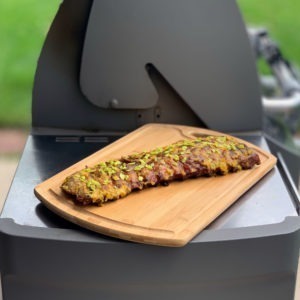 Chicago-Style Extra Tender Back Ribs Recipe
Nick @ DudeFoods.com
Are you a fan of both ribs and Chicago-style hot dogs? Then this Chicago-Style Ribs recipe is perfect for you!
Ingredients
1

rack

Smithfield Extra Tender Fresh Pork Back Ribs

3

tablespoons

olive oil

1

white onion

diced

1

cup

yellow mustard

1/2

cup

relish

1/2

cup

brown sugar

1/3

cup

apple cider vinegar

3

dashes

celery salt

1

jar (8 ounces)

sport peppers

diced
Instructions
Heat a charcoal or gas grill to medium-low, about 300°F.

Brush ribs with olive oil and grill for 45 minutes per side or until tender.

Melt butter in a pot, add onion and cook for 10 minutes or until soft.

Add mustard, relish, brown sugar, apple cider vinegar and celery salt and simmer over medium heat while stirring occasionally for 15 minutes.

Once your ribs are tender brush them with half the sauce and continue grilling until the sauce is cooked on.

Remove ribs from the grill, let stand for 10 minutes, brush them with the remaining sauce and sprinkle the diced sport peppers onto them.