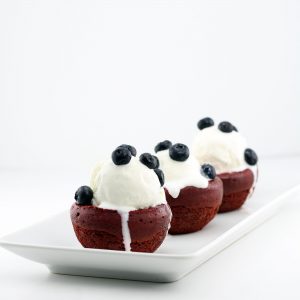 I know that I joke a ton about all the unhealthy food I eat, and based on the type of stuff I normally write about you can probably tell that I have a soft spot for food with artificial flavorings and colorings, but I can also recognize when something I'm eating doesn't need all that to still taste great. That's why I recently teamed up with Turkey Hill Dairy to spread the word about their All Natural Ice Cream line-up!
What's great about Turkey Hill's All Natural Ice Cream is that their entire line-up is made with only the simplest of ingredients. The ice cream contains no artificial colors, no artificial flavoring and no stabilizers, and on top of that it tastes really, really good! Plus, when a company has been around for over 80 years like Turkey Hill has been you know they've gotta be doing something right!
The 20-flavor All Natural line-up includes classics like Belgian Style Chocolate and fruit-infused favorites like Blueberry, Mango and Blackberry Swirl, but I decided to keep it nice and simple and try their Homemade Vanilla flavor, which contains just four ingredients — milk, cream, sugar and vanilla.
I was feeling a little festive when I picked up my ice cream so I decided to go with a red, white and blue theme when I enjoyed it by baking some red velvet ice cream bowls, which I filled with Turkey's Hill's Homemade Vanilla and then topped with fresh blueberries.
And yes, I definitely get the irony in using food coloring to make an edible ice cream bowl that's filled with All Natural Ice Cream, but when you think about it, if I did the same thing with most other ice cream brands the bowls and the ice cream would both have artificial coloring…
If you'd like to sample Turkey Hill All Natural Ice Cream for yourself make sure you stop by their Good Mooed Tour, which will be crisscrossing the Midwest this summer! Click here for a list of tour stops and stop out, enjoy some free ice cream and pose for a photo with their iconic Giant Cow!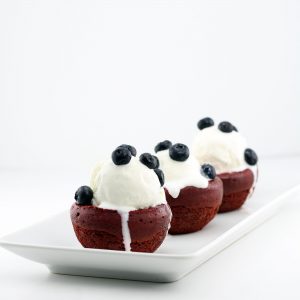 Edible Red Velvet Ice Cream Bowls Recipe
Nick @ DudeFoods.com
Why eat ice cream out of a regular bowl when you can eat it out of one of these delicious 100% edible red velvet bowls instead?!
Ingredients
1

tub

Turkey Hill Homemade Vanilla All Natural Ice Cream

2 1/2

cups

flour

1 1/2

cups

sugar

1 1/2

cups

vegetable oil

1

cup

buttermilk

1/2

cup

butter

4

tablespoons

red food coloring

2

tablespoons

unsweetened cocoa powder

2

eggs

1

tablespoon

baking powder

1

teaspoon

salt

1

teaspoon

vanilla extract

1

cup

fresh blueberries
Instructions
Preheat your oven to 350°.

Combine the flour, sugar, vegetable oil, buttermilk, butter, red food coloring, cocoa powder, eggs, baking powder, salt and vanilla extract into a bowl and beat until batter is smooth.

Spray the Bake-a-Bowl Pan with non-stick cooking spray.

Pour batter evenly among the 6 cavities in the Bake-a-Bowl and add the top piece.

Bake for 20 minutes or until a toothpick inserted into the bowls comes out clean.

Fill each bowl with a scoop of Turkey Hill Homemade Vanilla All Natural Ice Cream and top with fresh blueberries.