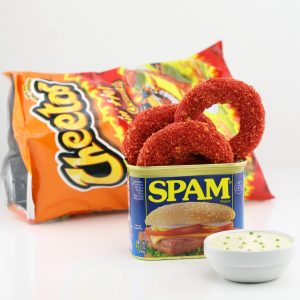 I found a couple cans of SPAM recently when I was cleaning out one of my kitchen cabinets.
I have zero idea where they came from and I can't imagine that I would have ever bought them, but I figured that since I have them I might as well use them for something right?
It's been years since I've had SPAM and I totally forgot how much it smells like wet cat food when you first open the can. It's weird to me that they can make a meat product that can sit in a can unrefrigerated for three or four years without going bad but they still can't manage to do anything about that smell. Or do people actually enjoy that smell? I sure as hell don't!
Do you know what a great way to get rid of that terrible cat food smell is though? By cutting the SPAM into rings, breading them in Flamin' Hot Cheetos and deep frying them! In fact, what started off as a way to get rid of my two cans of SPAM and one of the bags of Flamin' Hot Cheetos that I still had leftover from the ten bags I recently purchased when the grocery store near my house had a killer deal actually turned into to a pretty decent little snack!
I'm still not sure that I'd choose these over regular onion rings but hey, at least I don't have two random cans of SPAM in my kitchen cabinet anymore!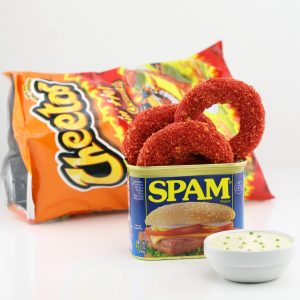 Deep Fried Flamin' Hot Cheetos Breaded SPAM Rings
Nick @ DudeFoods.com
Not a fan of SPAM? Try it breaded in Flamin' Hot Cheetos and deep fried and see if you change your mind!
Ingredients
2

quarts

oil

for frying

2

cans

SPAM

1

bag (8 1/2 ounces)

Flamin' Hot Cheetos

crushed into crumbs

2

cups

flour

6

eggs

½

cup

milk

Ranch or your preferred dipping sauce
Instructions
Heat oil in deep fryer or heavy skillet to 375°F.

Open cans of SPAM and slice each hunk of SPAM into three equal-sized pieces.

Find something circular that you can use to turn the squares of SPAM into a ring. You'll also need a smaller circular object to punch out the inner rings. I used an egg ring for the outer circles and an upside down shot glass for the inner circles.

Set up a dredging station with three bowls — flour in the first one, beaten eggs and milk in the second one and crushed Flamin' Hot Cheetos in the third one.

Coat each SPAM ring in flour, submerge in egg wash and cover in crushed Flamin' Hot Cheetos. Repeat this step a second time if necessary.

Fry for 3 minutes.

Drain on paper towels and serve with ranch or your preferred dipping sauce.