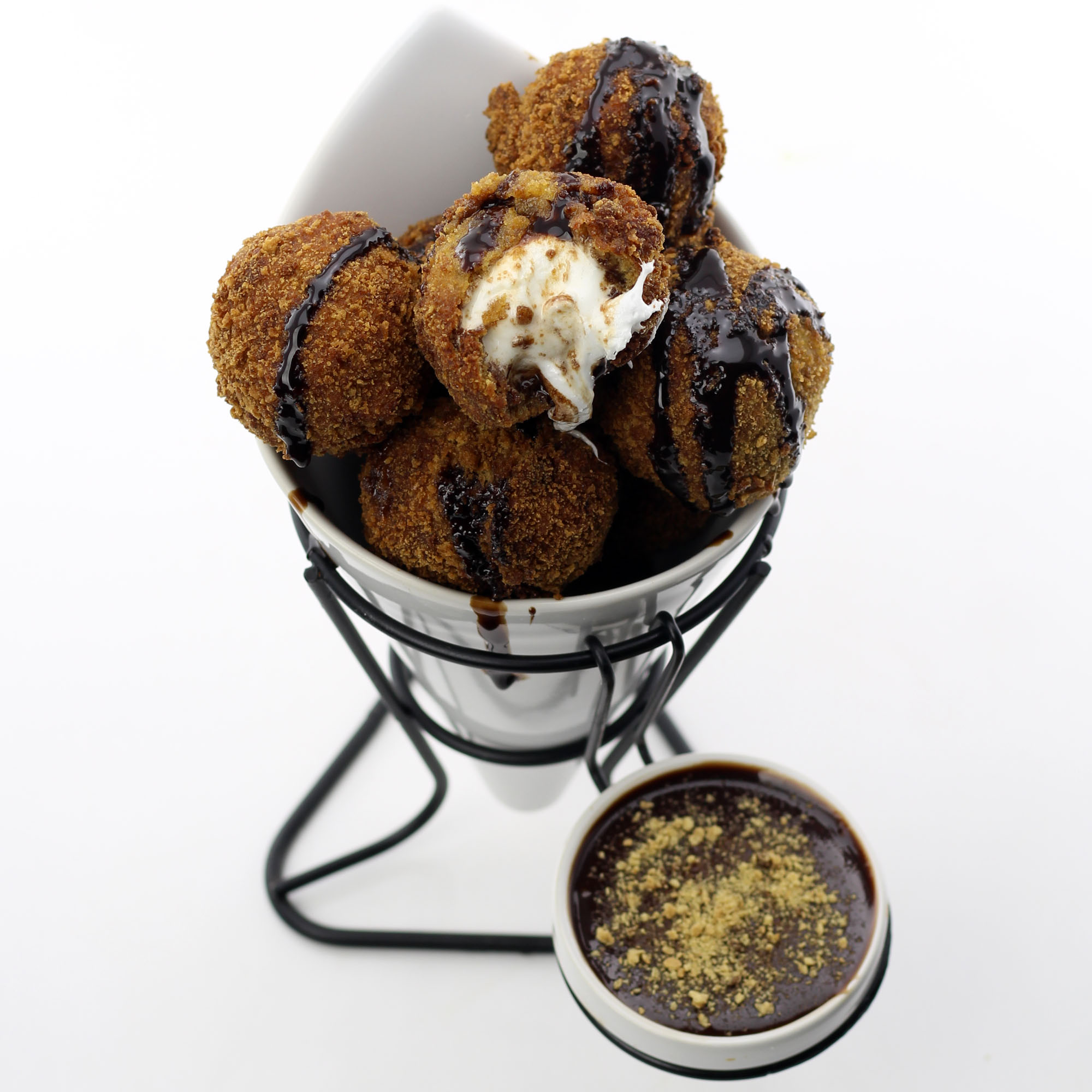 I came up with an idea for deep fried s'mores recently and upon Googling it to see if anyone else had already done it my own recipe from over seven years ago came up as one of the top results. Yep, apparently I've been doing this blog for so long that I can't even remember all the things I've made over the years….
That's OK though because this time around I came up with a much better way to make them.
Back in 2011 I wrapped graham crackers, Hershey's chocolate bars and marshmallows in egg roll wrappers prior to deep frying them. This time around I ditched the egg roll wrappers completely and just dipped the marshmallows in chocolate and then rolled them in crushed up graham crackers, which acted as the breading. So, just like the s'mores you make when you're sitting around a campfire these Deep Fried S'mores only have three ingredients you need to worry about.
I actually almost gave up on these Deep Fried S'mores because the first time I made them I was a little impatient and didn't freeze them prior to dropping them in my deep fryer, which caused the marshmallows to melt way too quickly and just caused a huge mess. I think I spent about 20 minutes cleaning all the melted marshmallow out of the holes in the fryer basket after that disaster, so if you make these just be sure they spend at least 30 minutes or so in the freezer prior to deep frying.
I'm glad I stuck it out and gave it another shot though because these Deep Fried S'mores ended up tasting amazing. A crunchy graham cracker crust, melted marshmallow on the inside and warm chocolate sauce? Just absolutely delicious!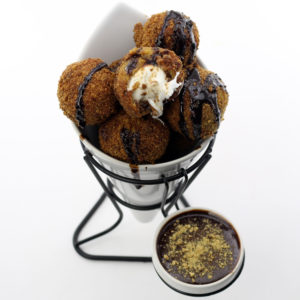 Deep Fried S'mores Recipe
Nick @ DudeFoods.com
Gooey marshmallow breaded in crushed up graham crackers dipped in chocolate is exactly what you get with this Deep Fried S'mores recipe!
Ingredients
2

quarts

oil

for frying

10

graham crackers

finely crushed

15

large marshmallows

1

bottle

chocolate syrup
Instructions
One by one dip the marshmallows in chocolate syrup and coat in crushed up graham crackers. Repeat a second time if necessary.

Freeze marshmallows for at least 30 minutes.

Heat oil in deep fryer or heavy skillet to 375°F.

Deep fry marshmallows for 90 seconds.

Drain on paper towels and serve with chocolate syrup for dipping.