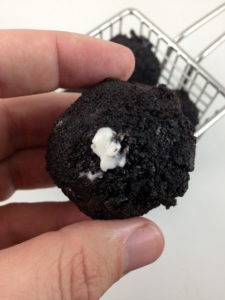 Sometimes I come up with ideas for things I want to make and write about here on DudeFoods, but when I finally get around to creating them they don't turn out as great as I envisioned in my head. This Deep Fried Oreo Cookie Filling was not one of those instances….
I came up with this idea the last time I made Deep Fried Ice Cream. At the time I breaded balls of frozen ice cream in crushed up Oreo cookies. I even mixed some of the Oreo filling in with the ice cream, and as I was eating it I got to wondering about what pure Oreo cookie filling would taste like if I deep fried it. Well, last weekend I finally found out and long story short, it was amazing!
I once again started off by removing the filling from an entire package of Oreo cookies, before rolling it into six equally sized balls, each of which was about the size of a golf ball. I then took all the chocolate discs, put them in my blender and blended them up into as fine of a dust as I could.
The final step was to take each ball of Oreo frosting, dip it in an egg wash and then roll it around in the cookie crumbs before dropping them all into my deep fryer for about 20 seconds.
The finished product was delicious! I was really surprised with just how gooey the frosting got, and biting through the crunchy Oreo exterior into the rich, creamy filling only added to the deliciousness! I've eaten Deep Fried Oreos before and loved them, but this way of doing it, versus just dunking the entire cookie in batter and deep frying it tasted about 100 times better.