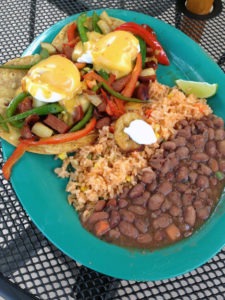 There isn't much in life that I enjoy more than brunch. It combines my favorite meal of the day — breakfast — with drinking, which is another activity that I happen to love.
As far as breakfast foods go, there isn't necessarily one that I like more than others, but if I absolutely had to choose a favorite it would probably be Eggs Benedict. What I enjoy even more than traditional Eggs Benedict though is when restaurants come up with their own unique takes on it, and BelAir Cantina does exactly that with their Tostada Benedict.
The Toatada Benedict, which features diced chorizo, potatoes, peppers and onions on a tostada that's topped with poached eggs that are covered in a chipotle hollandaise sauce. It's definitely a little difficult to eat, but damn is it good!
My first instinct was to eat it with a fork like you would with a normal Eggs Benedict, but that immediately proved difficult since you can't exactly break apart a tostada and get pieces of it on your fork like you can with an English muffin. In the end I just picked the whole thing up and ate it like an open-faced sandwich, which worked out pretty well.
Maybe it's the fact that BelAir is only about a mile from where I live and I can hang out there, drink as much as I want and not have to worry about driving home, but ever since it opened back in June I've been going there pretty frequently.
Looking for a great deal on tacos? Stop in on Tuesday or Thursday nights when BelAir offers them for $2 – including rice and beans – as well as $2 beers and $2 tequila shots. Not a bad deal at all…. Maybe I'll see you there!