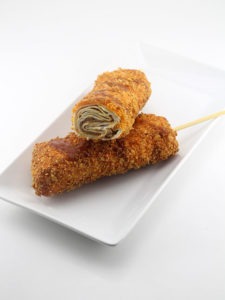 I've made a ton of ridiculous things over the years using items from fast food restaurants, but out of all of them this is the one that I could actually picture ending up on said restaurant's menu.
For one, it seems like Taco Bell is continually rolling out new items and two, they definitely don't seem opposed to adding crazy new items that most other chains would shy away from. Items like the Quesarito (which, if we're being honest was a blatant rip off of the secret menu item that people had already been ordering at Chipotle for years) or the now-discontinued Waffle Taco that they sold during breakfast hours.
What's even better is that these Deep Fried Doritos Breaded Burritos are made up of two basic ingredients — Nacho Cheese Doritos and a Beefy 5-Layer Burrito — both of which are already available at every Taco Bell location nationwide!
The process to create this amazing new item is pretty simple, you just need to dip a burrito in an egg wash, roll it around in crushed up Doritos and then drop it in the deep fryer for a minute or so. After that you can top it with your favorite Taco Bell sauce and enjoy the crunchy, beefy — although for something that has the word "beefy" right in the title Taco Bell could really throw at least a little more beef in their Beefy 5-Layer Burrito — cheesy goodness!
Now, normally I'd charge a pretty penny for an idea as great as this one, but you know what taco Bell? I totally dig you and as payback for all the times you've fed me when I've drunkenly made my Uber driver pull through your drive-thru at 2:30am on my way home from the bar you can have this Deep Fried Doritos Breaded Beefy 5-Layer Burrito free of charge! If you wanted to pay me or hook me up with a ton of free gift cards I'd totally take that too though….